5 Facts You Might Not Know About the Baltit Fort Hunza
You must have heard about the famous Baltit Fort of Hunza but how much do you really know about this architectural monument of historic importance? Let's explore.
The region of Gilgit-Baltistan is not only blessed with some spectacular natural scenery but some man-made wonders also add up to the glory of this part of Pakistan. One of the prominent names that come into the mind while talking about Hunza valley is the Baltit Fort. The fort is located at an elevation
We recently visited the Baltit Fort and we have compiled a list of 5 interesting facts that might not know about the historic monument.
1. Baltit Fort is over 700 years old
The foundations of Baltit Fort were first laid some 700 years ago. Over the next couple of centuries, restoration work was carried out. The biggest one took place in the 16th century when artisans from Baltistan came to Hunza and changed the entire shape of the fort. The Ladakhi/Tibetan architecture influence of the fort comes from the same restoration period. This restoration work by Balti artisans was done as part of a dowry of a princess who got married to a prince of Hunza at that time.
2. It was home to the royal family of Hunza for centuries
Baltit Fort was not the only home to the family of Mirs – the royal rulers of Hunza. The royal family was based out of an even older Altit Fort which is located in the village of Altit at a huge elevated rock. However, a conflict resulted in one of the two brothers settling in Baltit Fort. The brother who remained in Altit Fort was killed hence Baltit Fort became the seat of the Hunza state.
For centuries, Baltit Fort remained home of the royal family of Hunza. Not only that, many festivities and important meetings were held inside specially built portions inside the fort.
Even today, festivals like Ginani are celebrated in Baltit Fort.
3. The Fort was abandoned in 1945
Baltit Fort was abandoned in the mid-1940s. The family of then Mir of Hunza moved to a newly built palace within Karimabad town. For decades, the fort remained a haunted place while it slowly turned into a ruin. During this time, a lot of important items disappeared, a number of which were never recovered.
From 1945 until the 1990s, no repair work was done in the fort which posed a threat to a possible collapse of the building.
4. It took 6 years to renovate the Baltit Fort
The fort was renovated by Aga Khan Cultural Services for Pakistan (AKCSP) and opened for public in September 1996. The restoration work of Baltit Fort took AKCSP about six years to complete with the support of Aga Khan Trust for Culture (AKTC). The fort was inaugurated after restoration by His Highness Prince Karim Aga Khan and then president of Pakistan Mr. Farooq Ahmad Khan Leghari.
5. Baltit Fort is now a museum
After the restoration of Baltit Fort in 1996, the fort was opened for public. It is now being managed by the Baltit Heritage Trust. An estimated 15,000 people visit the Baltit Fort every year which includes locals, domestic and foreign visitors.

Duke and Duchess of Cambridge visit Chitral as part of their Royal Tour in Pakistan
The Duke and Duchess of Cambridge flew from Islamabad to Chitral on their third day of Royal tour in Pakistan. This is the first royal tour of Prince William and his wife Kate Middleton to Pakistan.
The two were welcomed with traditional Chitrali Pakol, a traditional Chitrali cap, and Chitrali Chogha, a traditional long coat in often presented to dignitaries, at the Chitral Airport.
The royal couple had landed in Islamabad on Monday evening as part of a 5-day long royal tour in Pakistan. The Duke and Duchess of Cambridge had a busy first day in the capital where they had a meeting with Prime  Minister Imran Khan. Earlier, the royal couple visited Islamabad Model College for Girls, a government-run school in the capital city.
Later, the British High Commissioner for Pakistan Thomas Drew hosted a reception for the Duke and Duchess of Cambridge at Pakistan Monument in Islamabad. The royal couple arrived at Pakistan Monument in an auto-rickshaw.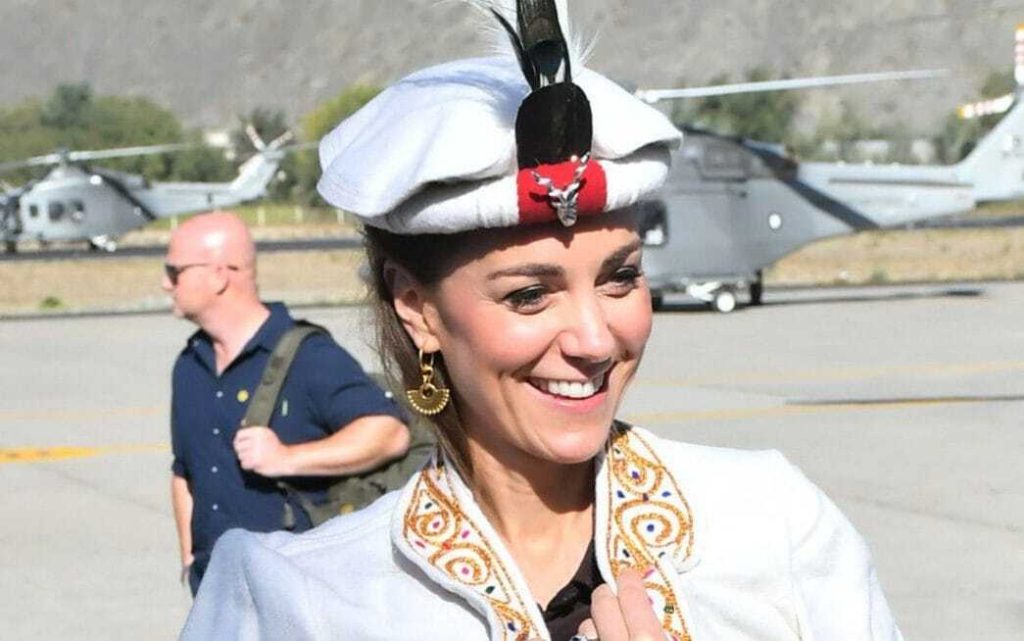 The Duke had spoken of the challenges Pakistan faces from climate change at a reception at Pakistan Monument in Islamabad.
"Tomorrow we will be seeing some of these impacts first hand and meeting some of the communities adjusting to the new realities and new challenges that climate change has brought to their towns and villages," he said.
He further added:
"I hope to learn what more we all can do to help prevent and mitigate this impending global catastrophe."
William and Kate are also expected to visit Gilgit-Baltistan and the historic city of Lahore as part of their royal tour.
Chitral Youth Forum (CYF) Celebrates Spring Festival at PNCA
Chitral Youth Forum organized Spring Festival at Pakistan National council of Arts (PNCA) in Islamabad to welcome the Persian New Year (Nowruz)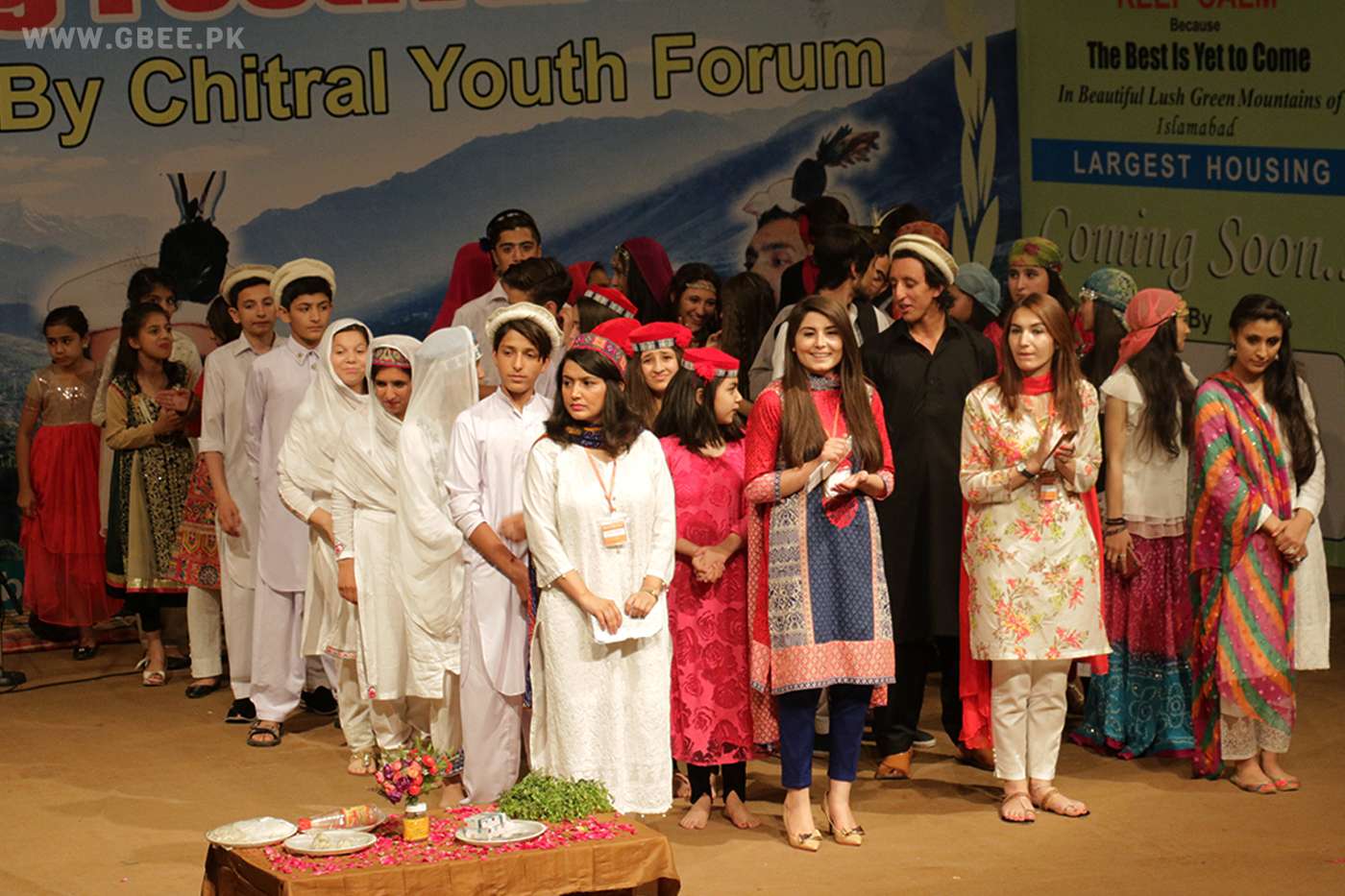 Islamabad: Chitral Youth Forum (CYF) organized Spring Festival to celebrate Nowruz on Sunday, April 16, 2017, at Pakistan National council of Arts (PNCA) in Islamabad.  The event was organized to welcome the Persian New Year (Nowruz) in centuries old traditional way.
Shezada Iftikhar Uddin, MNA of Chitral, Mr. Sultan Wali, Managing Director of Chitral Associate and Raja Nazeem Ul Amin, the Chairman of Gilgit-Baltistan's Board of Investment, were among the prominent personalities who attended the event.
Over 400 families and professionals from Gilgit-Baltistan and Chitral (GBC), who live in the twin cities of Rawalpindi and Islamabad, attended the event.
A main feature of the Spring Festival was how different countries celebrated the arrival of new year and spring as a whole. Young girls and boys dressed in the colorful traditional attire of relevant countries presented skits. Nowruz celebrations and arrival of spring festivities were depicted through popular practices of northern Pakistan, Afghanistan, Tajikistan, Iran, etc.
Mr. Shehzada Iftikhar appreciated the efforts of CYF in his address.
"This program is unique and one of its kind that I have ever attended. I am very touched with the performance that showed how arrival of spring is celebrated in different countries and even within Pakistan. I must say this event should be organized every year. I will make every possible effort to put the event in PNCA's annual calendar so that we could celebrate it every year on a regular basis."
The famous dance of Chitral, Phastak Dosik, was also presented by young boys.
Later on, famous folk singer Jabir Khan Jabir presented one of his latest songs. Popular singers from Chitral like Irfan Ali Taj and Muhsin Hayat Shadab also performed and brought the audience to their feet.
A skit on how trends have changed over the years was also performed by Chitrali youth.
Spring Festival & Nowruz Celebrations in Pictures
Follow these steps to help slow the spread of the virus and to reduce the risk of infection:
➡️ Wash your hands with soap and water regularly and thoroughly; this means for at least 20 seconds
➡️ Cough or sneeze into your elbow or into a clean tissue, then throw the tissue in the bin
➡️ Stay 1.5 meters away from others. If you are sick, stay home
➡️ If you're feeling sick or showing symptoms of coronavirus, you should call your designated numbers in your city for advice.
➡️ For more information and tips to help improve your safety and wellbeing, visit the Federal Government's official website