AKAH works with the Government for the second phase of relief for GLOF affected households in Ghizer
The Aga Khan Agency for Habitat (AKAH) has worked with the Government of Gilgit-Baltistan during the second phase of relief for Glacial lake outburst flood (GLOF) affected households in the Immit Valley in Ghizer district of Gilgit-Baltistan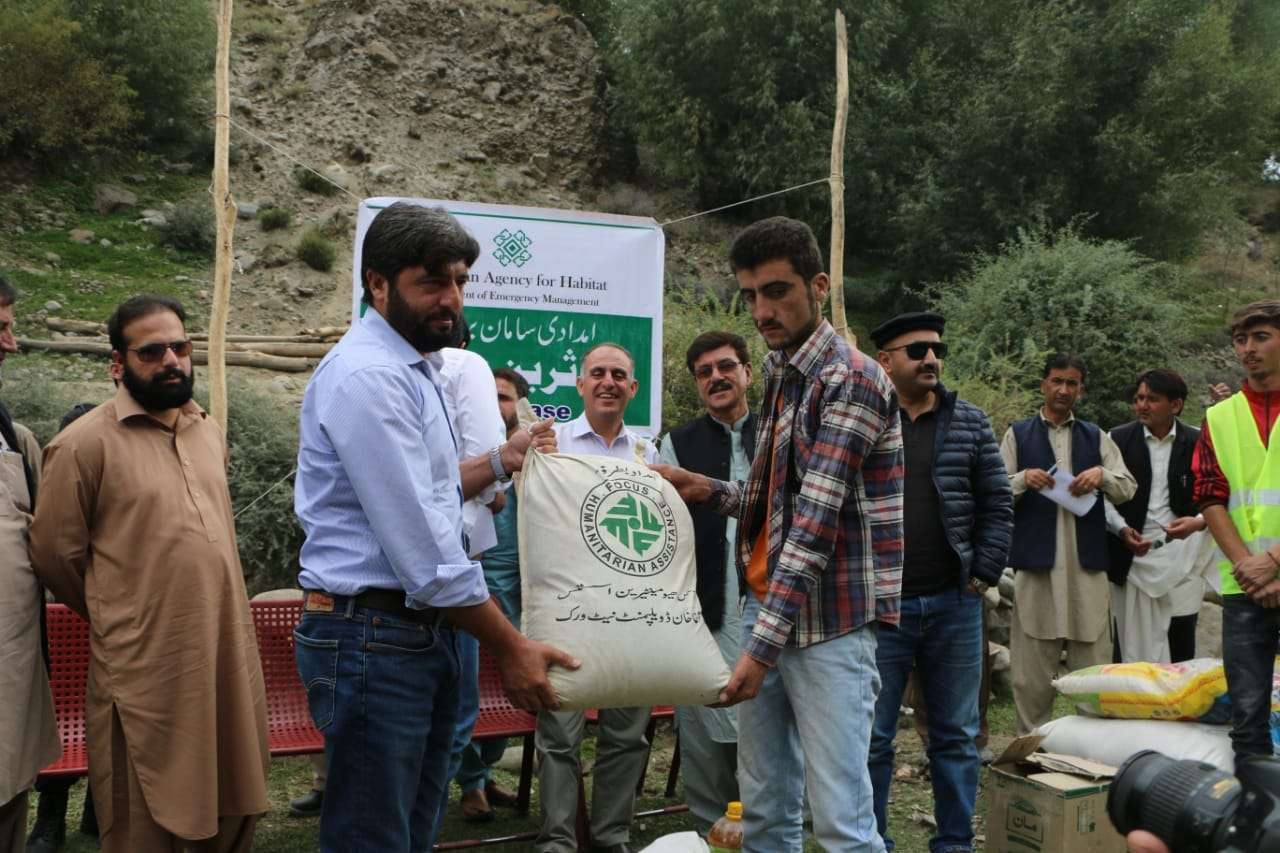 Immediately after the GLOF event damaged over 40 households in Badswat and its surrounding villages in Immit Valley in Gilgit-Baltistan, the Aga Khan Agency for Habitat (AKAH) worked closely with the Pakistan Army and the Gilgit-Baltistan Disaster Management Authority (GBDMA) to set temporary tents and provide food and non-food items to the disaster-affected families.
Continuing its response, in the second phase of its relief activities, AKAH is providing over 10 tons of food supply to 44 households to address their food supply needs over the next two months. In addition, AKAH is also providing the affected households with non-food relief items including hygiene kits, bedding and kitchen sets.
The food and non-food relief items were distributed in the presence of Commissioner of Gilgit, District Commissioner of Ghizer, President of the Regional Council of Ishkoman Puniyal, Assistant Commissioner of Ishkoman Puniyal, Assistant Director of the District Disaster Management Authority other public officials. Representatives from the government commended AKAH's efforts in reducing the vulnerability of disaster-affected households and hoped that AKAH will continue its activities in the affected villages.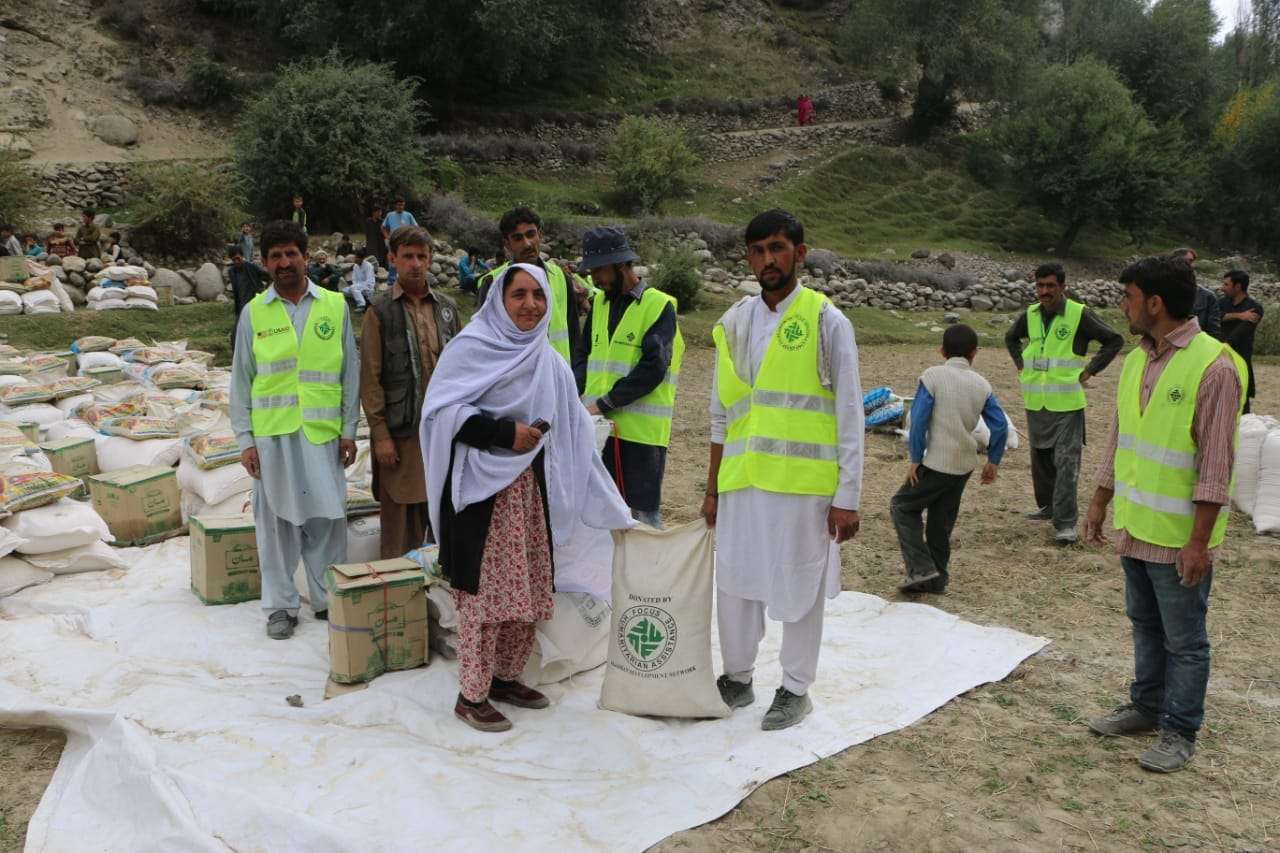 The District Commissioner also instructed the Local Government and Rural Development department to construct a pony track for Badswat and Sher-Roi within a month. In addition, the installation of a cable car for the village of Dawardass is in its final stages and the rehabilitation of water supply from Badswat to Sher-Roi is expected to complete within a week.

Nestlé Pakistan to recycle 220,000 kgs of plastic waste in Hunza
Nestlé Pakistan, District Council Hunza, Gilgit-Baltistan Waste Management Company (GBWMC) and Karakoram Area Development Organization (KADO) have signed an MOU for "Clean Hunza Project". The project is supported by the company's NESTLÉ FRUITA VITALS and NESTLÉ PURE LIFE brands.
"Clean Hunza Project" shall focus on infra structure development for a waste segregation, management and recycling system for Hunza – a popular tourist destination – with District Council Hunza, GBWMC and support from KADO for raising awareness in the communities.
The collective action initiative will encourage waste management of 150,000 kgs of plastics annually in Phase I, followed by collection of 50,000 kgs paper packaging (used beverage cartons) in Phase II in the area with an increase of 10% annually.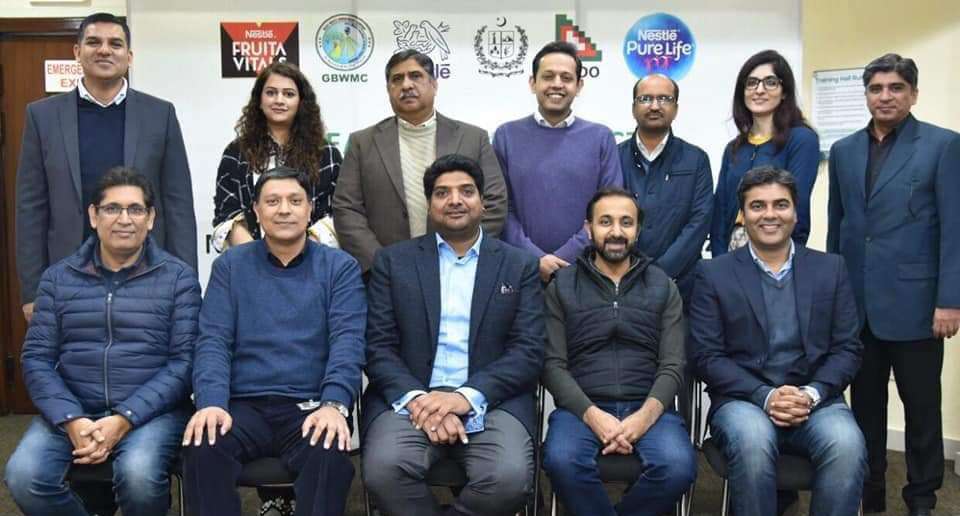 The Project's focus shall be on the segregation of Plastics and paper packaging at the waste site which, after the compressing and bailing process, shall be brought down the country for recycling. Nestlé Pakistan shall provide a compressing and bailing unit to the Hunza district government. The company will also be distributing 10,000 reusable bags in the community during 2020 as part of the project. KADO will extend support for different community awareness activities.
Waqar Ahmad, Head of Corporate Affairs, Nestlé Pakistan, while highlighting the company's global commitment to tackle plastic waste, said, "This project marks the beginning of Nestlé Pakistan's journey to reduce the environmental impact of plastic packaging by improving the management and recycling of various kinds of plastic packaging, in line with UN SDGs. Globally we aim to make 100% of our packaging recyclable and reusable by 2025."
He further added, "The Clean Hunza Project is a pilot project with a focus on streamlining the management and recycling of plastic waste, with a forecast of increasing waste collection to 220,000 kgs by 2024. This project will result in lesser plastic ending up in water bodies downstream."
Commending the cause, Babar Sahibdin, Deputy Commissioner Hunza District, said, "We applaud support from Nestlé for providing us with 10,000 reusable bags, which will create awareness amongst the locals to stop using plastic bags and incline them towards a more environmentally friendly solution. We appreciate Nestlé's for providing the Compressor, Bailing and Recycling infrastructure and capacity building of our staff on waste segregation site."
Talking about the initiative, Ghulam Mustafa, Chairman KADO said, "We fully support District Government Hunza and Nestlé Pakistan partnership and are proud to collaborate with them in reaching our shared goals."
About Nestlé Pakistan
Nestlé is the world's largest food and beverage company. It is present in 191 countries around the world, and its 328,000 employees are committed to Nestlé's purpose of enhancing quality of life and contributing to a healthier future. Nestlé offers a wide portfolio of products and services for people and their pets throughout their lives. Nestlé Pakistan is also a signatory of "Clean Green Pakistan" initiative.
A journey of Hope – Aga Khan Agency for Habitat (AKAH) in Pakistan
In millions of years of mankind's history on planet earth, the human habitat has never been such vulnerable as it is today.  With the changing climatic conditions, natural disasters continue to worsen the quality of life of millions of people globally especially in the underdeveloped and developing countries that in many cases has the least to do with the cause of climate change.
The world war II's industrial revolution brought prosperity particularly to the industrial world and the rest in general however soon mankind started realizing that the model of growth chosen for this prosperity had major flaws in it and was causing damages to the very existence of the planet itself by causing global warming. Today the world has become a more unsafe place not only for human beings alone but all kinds of living species and their habitats.
Pakistan is amongst the top 10 countries that receive the worst impacts of climate change whereas its contribution to the Green House Gas Emissions is less than one percent of the total global emissions. Heavy rain, increasing glacial melt, Glacial Lake Outburst Floods and avalanches are becoming a permanent phenomenon. Over a decade almost every year, Pakistan has faced medium to large scale flood situations. 2010 and 2015 being the worst years when millions of people became homeless. Billions worth of properties were lost worsening the already fragile economy of the country and increasing poverty.
This situation is forcing people to migrate from areas where they lived for generations. Climate refugees are increasing, people moving from rural areas to urban centers ending up living in slums, escaping one hazard and entering another.
The Aga Khan Agency for Habitat (AKAH) has the mandate to help communities create a safe and resilient human habitat with improved services where communities could see a future for themselves. AKAH has a major focus on programs related to climate change adaptation and mitigation. Under adaptation, Habitat planning is a key activity where the agency, through hazard risk vulnerability assessments (HVRAs), identifies safe locations in its program areas as living zones. So far it has assessed about 800 settlements in Pakistan, majority in the mountain areas of Northern Pakistan, and has identified areas that are exposed to single or multiple natural hazards and areas that are safer from natural disasters.
AKAH through its community-based disaster management programs, using these maps, educates communities to build in safer areas and uses at-risk areas for community forestry or agriculture purposes that in some cases will work as a mitigation measure. It has identified several settlements where a major part of the settlement and population are exposed to high risk and there is hardly any safe space available. AKAH is working with the communities on options for relocation of these communities to safer areas with future growth opportunities.
As a first case, 50 such communities have been identified from the mountain communities of Northern Pakistan. AKAH intends to work with the local governments, civil society and communities to invest in services infrastructure in the safer zones creating areas of opportunities for the at-risk population. Areas that are exposed to low and medium risk AKAH build mitigation infrastructure mainly against floods, debris flow, and river erosion.
AKAH is working currently on a test project to reduce the risk of a snow avalanche. Over the past three years, it worked with about 100 communities to build mitigation infrastructure and make settlements safer. AKAH also works with hundreds of communities throughout Pakistan to build their coping capacities in disaster situations by awareness-raising, development of community emergency response teams (CERT), the establishment of stockpiles, training of search and rescue teams (SART), community based and mechanized early warning systems and establishing fail-safe communications with isolated communities.
The CERTs are the first responders in any disaster situations and have responded to hundreds of emergency situations saving thousands of lives. In 2017 in an event of floods in the Ishkoman valley triggered by a GLOF event from Badswat glacier upon early warning the CERTS evacuated 200 houses and within 12 hours the flood-hit over 40 houses, but no life was lost. There are dozens of such stories where the CERTS saved lives.
AKAH under its school safety program has worked with over 1000 schools throughout the country and has educated hundreds of teachers and thousands of students on the approaches of disaster risk reduction.
The mountain communities of Northern Pakistan are highly dependent on the natural forest which is only 9% of the total land area. Studies show that 95% of households in Gilgit-Baltistan use timber as main material for housing constructions. On average six to eight matured trees are used for each new house and approximately over 3,000 new housing units are built each year. Similarly, 86% of households use biomass as fuel for heating and cooking. This situation is causing a great pressure on the already scarce forest resources.
AKAH under its Building and Construction Improvement Program, through action research, developed over 60 different housing improvement solutions around thermal efficiency and improved cookstoves that reduce the fuelwood consumption by up to 60%. It also introduced innovative solutions for the reinforcement of walls reducing the use of timber. Over 100,000 BACIP products have been installed in over 40,000 houses benefitting slightly less than half a million people of the mountain communities. In the last two years over 1000 homes were provided access to solar products for lighting purposes.
The efficient management of water resources is a key international issue of climate change. AKAH through its Water and Sanitation Extension Program (WASEP) successfully demonstrated a community-based water management system for the mountain communities. Through its six components program (infrastructure, operation and maintenance, community endowment, health and hygiene, and water quality system) it provides a package solution to the community for the provision of clean drinking water around the year. So far WASEP has reached 600 communities benefiting over half a million people by providing WHO standard clean drinking water. The schemes are owned, operated and maintained by the communities.    
Climate-resilient construction is a key consideration under AKAH's building construction program. AKAH adopts climate-friendly designs for the development of AKDN's construction projects. The recently completed Bamyan Hospital in Afghanistan covers 60% of its total energy requirement from solar power. AKAH has so far constructed over 1.3M sft of buildings where climate-friendly and seismic-resistant design principles have been adopted.
AKAH won several international awards including the Ashden Award, UN Habitat Award, Aluminum Canada award and the British Social Housing Foundation Award. AKAH has, directly and indirectly, benefit millions of people through its programs and approaches which are being replicated at the regional level in similar geographies.
Commenting on the success of AKAH the Chief Executive Officer, Mr. Nawab Ali Khan said
"The successes of AKAH are a result of its community-centric approach and the strong partnerships with the government, donors and other national and international partners. AKAH believes that through partnerships and synergies with government and other partners, the community being at the center, a better habitat can be created where life is safe, and communities see a future for themselves. Our partnerships bring hope and we see a spark in the eyes of people."