Avalanche and Landsliding in Hunza Valley After Earthquake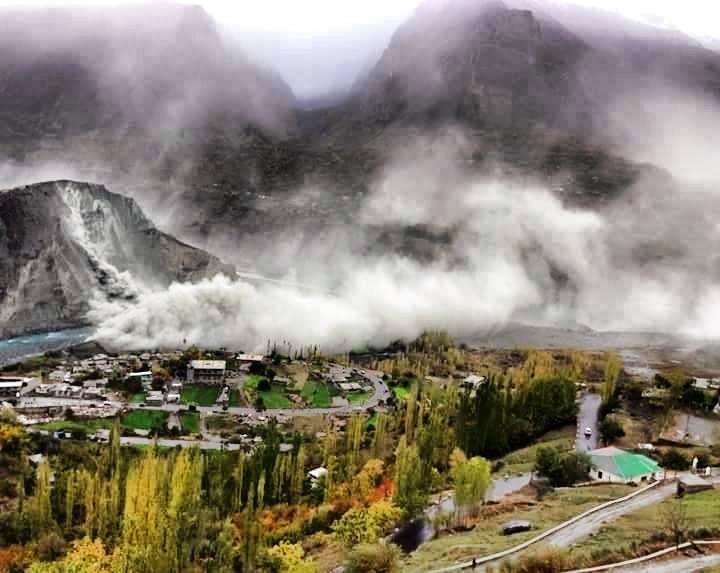 Pakistan has seen yet another deadly earthquake only a decade after the 8th October 2005 earthquake – one of the deadliest ever in the region. The 7.5 magnitude earthquake with the epicenter in north-eastern Afghanistan has left more than 250 people dead across Pakistan.
A video footage taken from Eagle's Nest in Duikar shows massive landslide and avalanche in the Hunza valley that triggered after the earthquake.
According to the Gilgit-Baltistan government, 8 people have lost their lives while 29 others have been injured. The Karakoram Highway was blocked at 45 locations which have now been opened for all kinds of traffic.
Avalanche and Landslide in Hunza Valley After Earthquake – Gbe…Video footage taken from Hunza Eagle's Nest Hotel shows glacier outburst and landsliding in The Hunza Valley.More than 250 people have died in Pakistan after a 7.5 magnitude earthquake with epicenter in north-eastern Afghanistan hit the region.More coverage on https://gbee.pk/topic/earthquake/: Ali Madad (Eagle's Nest, Hunza)

Posted by GBee on Tuesday, October 27, 2015
On 8th October 2005, an earthquake of magnitude 7.6 with an epicenter in Muzaffarabad had engulfed Azad Kashmir leaving over 80,000 dead, thousands injured and millions homeless.

Follow these steps to help slow the spread of the virus and to reduce the risk of infection:
➡️ Wash your hands with soap and water regularly and thoroughly; this means for at least 20 seconds
➡️ Cough or sneeze into your elbow or into a clean tissue, then throw the tissue in the bin
➡️ Stay 1.5 meters away from others. If you are sick, stay home
➡️ If you're feeling sick or showing symptoms of coronavirus, you should call your designated numbers in your city for advice.
➡️ For more information and tips to help improve your safety and wellbeing, visit the Federal Government's official website