Pakistan Army rescues stranded British mountaineers from Ultar Sar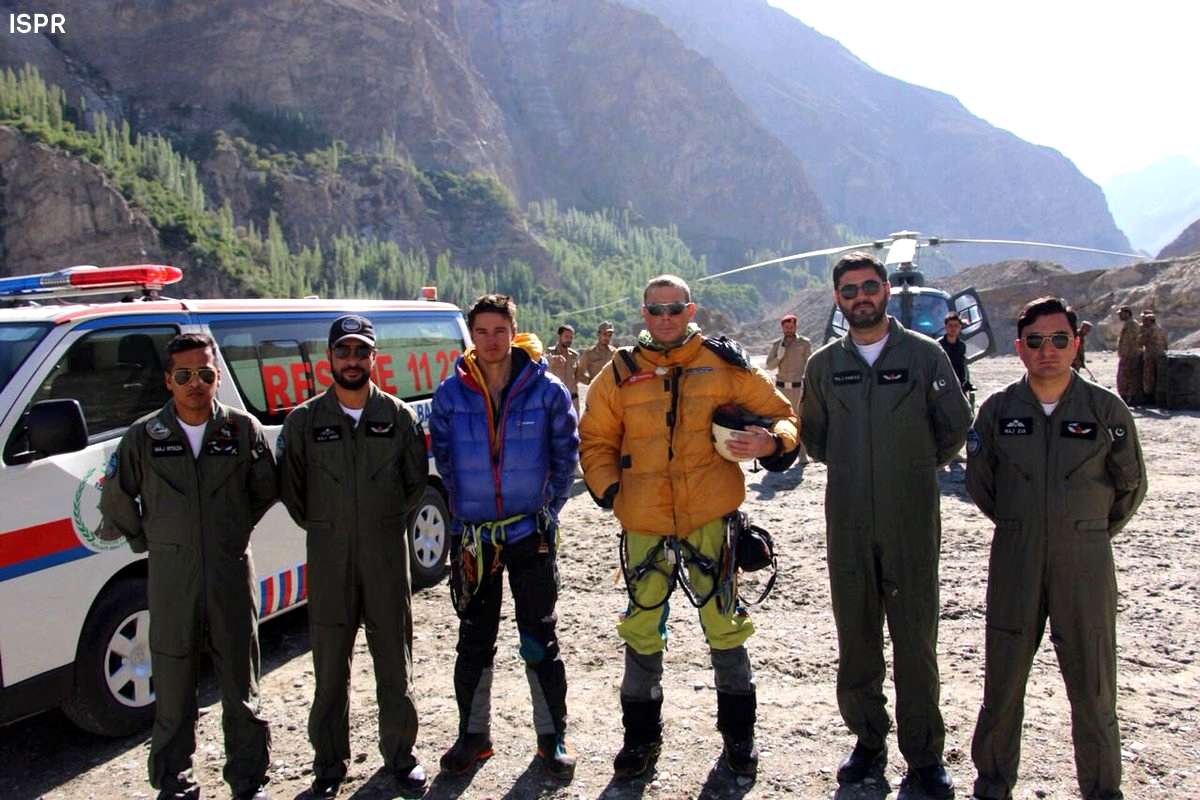 A team of highly skilled pilots of Pakistan Army has successfully rescued two British mountaineers from the Camp II of Ultar Sar in Hunza, Pakistan. Bruce Normand and Miller Timothy were on an expedition to summit the 7,338 meters high Ultar Sar along with Austrian Alpinist Christian Huber, the third member of the expedition.
They were hit by an avalanche in their sleep at Camp II of Ultar Sar at an altitude of 19,300 feet (5,883 meters). Christian Huber did not survive the avalanche. His body was recovered in the high-altitude operation by Pakistan Army and flown to Islamabad.
Bruce Normand and Miller Timothy received injuries in the avalanche but remained out of danger. However, due to bad weather, they were stuck with plentiful of supplies while a team of Pakistan Army pilots tried to rescue them safely.
According to Karrar Haidri, the secretary of Alpine Club of Pakistan, Austrian mountaineer Christian Huber was killed when an avalanche hit the climbers' tent on Friday night during a strong storm at a height of 5,900 meters on Ultar Sar. He added that the expedition started in late May and they were permitted to climb until the first week of July.
Abdul Karim Zouqi, an employee of Higher Ground Expeditions, a Hunza valley based tour operating company that was managing the expedition, sent out the first rescue request on Saturday morning.
Due to bad weather, Pakistan Army helicopters could not reach the stranded mountaineers. A helicopter was finally able to get through at around 6:45 am on Sunday morning.
Major General Asif Ghafoor, the Director General of Inter-Services Public Relations (ISPR), had Tweeted photos of the rescue team along with the two mountaineers who survived the Ultar avalanche.
Christian Huber was the president of American Alpine Club.
Thomas Drew, Britain's High Commissioner in Pakistan, sent a thank you message to Pakistan Army saying the mission had been "remarkable and dangerous".
"Our gratitude to the Pakistan Army pilots who rescued two British climbers trapped by an avalanche on Ultar Sar Peak near Hunza. Our thoughts with their Austrian fellow climber who did not survive the avalanche."
Ultar Sar is one of the most dangerous peaks to climb in Pakistan with high chances of avalanches. A similar avalanche had taken the life of Japanese climbers Tsuneo Hasegawa and Kiyotaka Hoshino. The both are laid to rest in Ultar Meadows. Nazir Sabir, Pakistan's prominent mountaineer, had closely escaped the avalanche.

Follow these steps to help slow the spread of the virus and to reduce the risk of infection:
➡️ Wash your hands with soap and water regularly and thoroughly; this means for at least 20 seconds
➡️ Cough or sneeze into your elbow or into a clean tissue, then throw the tissue in the bin
➡️ Stay 1.5 meters away from others. If you are sick, stay home
➡️ If you're feeling sick or showing symptoms of coronavirus, you should call your designated numbers in your city for advice.
➡️ For more information and tips to help improve your safety and wellbeing, visit the Federal Government's official website