AKAH partners with KIU for Programs of Scientific and Technical Collaboration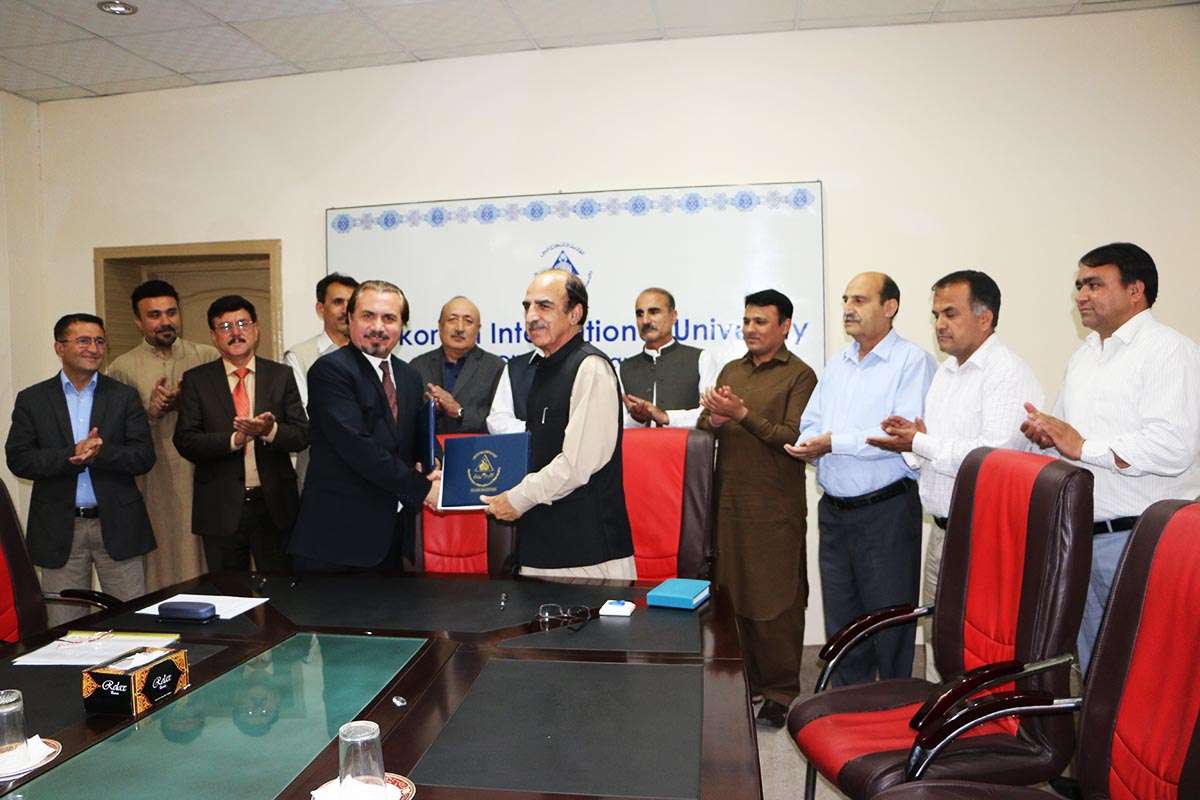 The Aga Khan Agency for Habitat partners with the Karakoram
International University, Gilgit, for programs of scientific and technical collaborations to advance the state of living conditions and reduce the vulnerability of mountain communities.
This partnership will encourage and facilitate young researchers and development practitioners in the field of disaster management and related disciplines such as hazard identification and assessment, mitigation, preparedness socioeconomic vulnerability assessment, climate change
induced disasters, Glacier and Glacier lakes, radiation hazards in the built environment and area focused structural design.
A high-level meeting held between Aga Khan Agency for Habitat and Karakoram International University, at Gilgit on 29 May 2019 to discuss technical aspects of the partnership for information sharing, exchange of resources and provision of opportunities. The meeting followed by the signing of Memorandum of Understanding (MoU), to advance the state of living conditions and reduces the vulnerability of mountain communities to natural disasters. The MoU was signed by the Vice Chancellor of KIU and the CEO of AKAH.
In his remarks Engr. Prof. Dr. Attaullah Shah, Vice Chancellor, Karakoram International University shared that "KIU is committed to making social development and evolution of peaceful and pluralistic societies in the mountainous areas of Pakistan. This formal linkage between the Aga Khan Agency for Habitat and KIU will be considered vital to boost research
and technical cooperation by sharing knowledge, expertise, and resources".
"Dealing with the issues of climate change and ensuring a safe and sustainable human habitat in the mountain areas is a key challenge of our times. We believe this challenge can only be addressed through strong cooperation and synergy between public and private sector organizations including academia and the civil society through generation and sharing of
knowledge, experience and technical cooperation" emphasized by Mr. Nawab Ali Khan, CEO of AKAH while speaking to the occasion. He further added that "this partnership will provide KIU researchers the opportunity of a field laboratory in AKDN projects for applied research in areas of disaster management and climate change adaptation and mitigation which will ultimately contribute to improvement in the quality of life of the communities. He appreciated the support that the public sector organizations have extended to AKDN and termed this partnership another key step for the development of the people of Gilgit-Baltistan.
In the past AKAH (AKPBS) jointly with KIU has worked on the development of skilled craftsmanship in Gilgit-Baltistan through joint programs.
Hundreds of craftspeople have benefited from the joint program and are benefitting communities with their learned skills.

Zulfiqar Essa: Contending for the Hult Prize 2019 with a Million Dollar Idea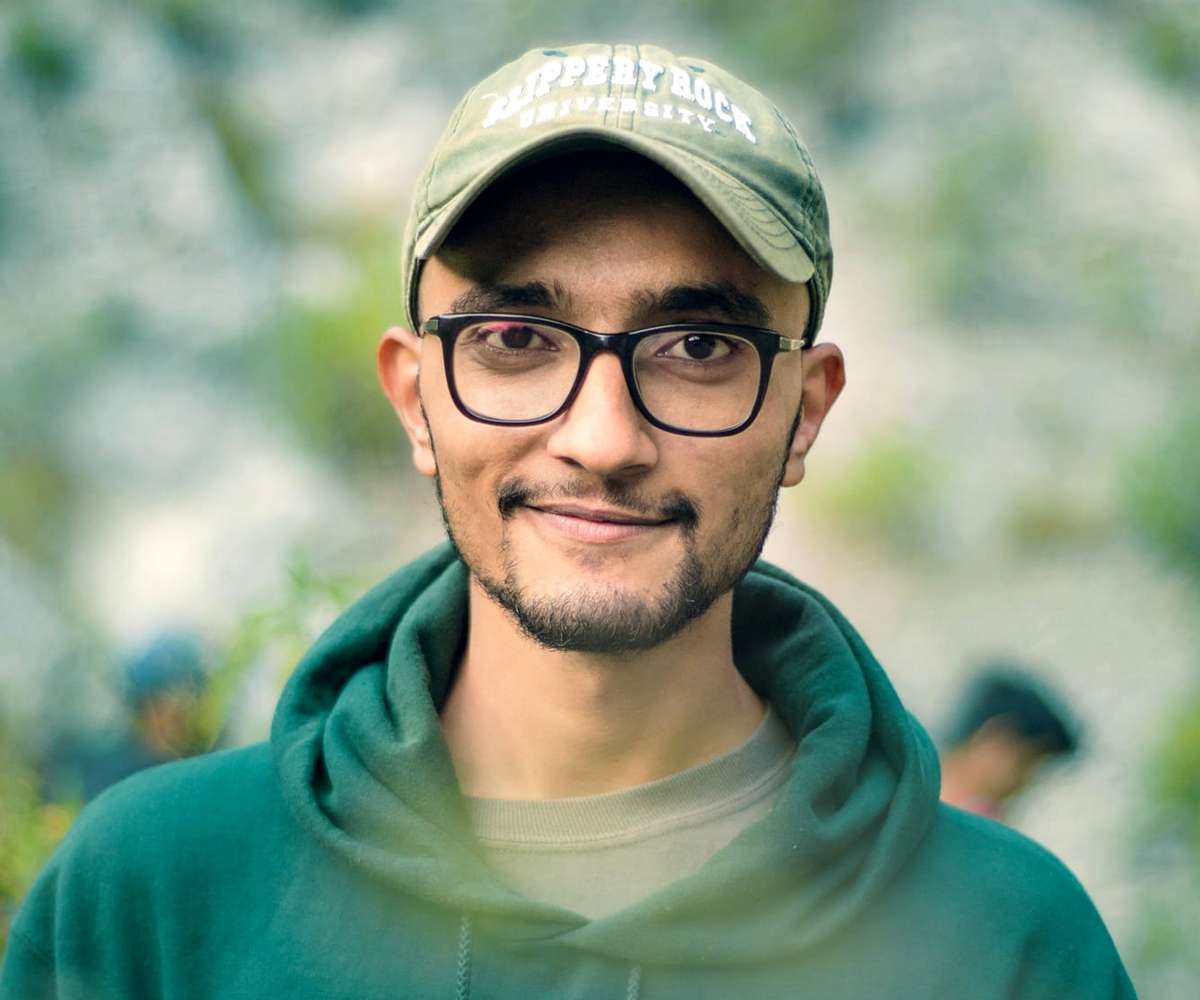 "My name is Zulfiqar Essa and I'm from Hyderabad, Hunza. I'm the co-founder of TechScape and previously have been awarded the Global UGRAD scholarship. Currently, I'm working on an idea called "Shirijon" which aims to create over 10,000 jobs in the next decade. I'm collaborating on this idea with my team members from Chitral, Punjab, and Germany.
Recently our idea got selected in the top 35 for HULT Prize 2019 from around two hundred thousand global applications received from across 120 countries. In the next round to be held in Amman, Jordan, we will be competing against young entrepreneurs from Harvard Business School, Cambridge, and other globally known institutions. Our idea is the very first Gilgit-Baltistan and Chitral (GBC) to make it to the regional round of HULT Prize.
Our team from COMSATS University Islamabad is quite excited to participate in the 10th Annual Hult Prize Regional Summit in an attempt to win a $1 million USD as a seed fund. We think that this idea has the potential to change the economy of not only Gilgit-Baltistan and Chitral but entire Pakistan as well."
This story is part of the #GBCProspers campaign by GBee. Send your stories at editor[at]gbee.pk or inbox your story at our Facebook page.
Join GBee to participate in our community forums and discuss topics about Gilgit, Baltistan, Chitral, Kohistan and Kashmir.
Sonaina Hamiya: Working on Preservation of Burushaski Lanuguage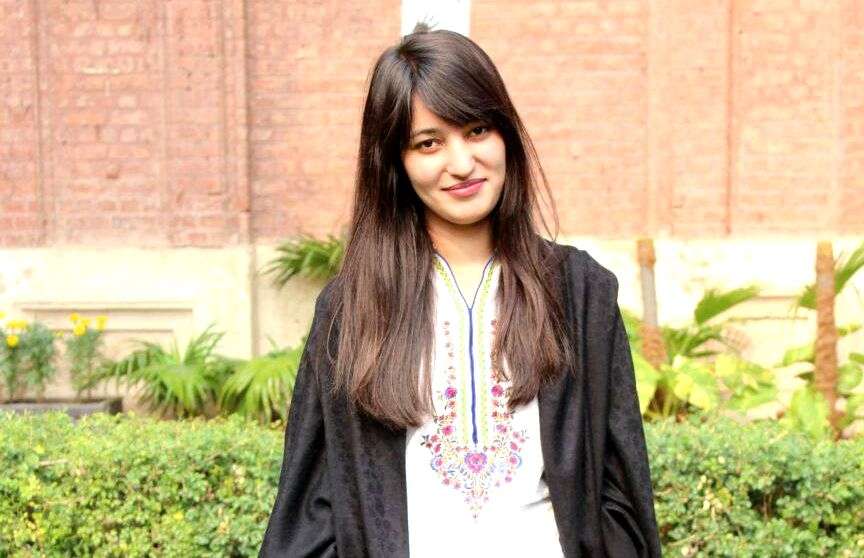 My name is Sonaina and I'm from Aliabad, Hunza. I've recently graduated from National College of Arts (NCA), Lahore.
Being a Hunza girl, it came to my realization that Burushaski language is being forgotten and young Burusho, especially those who live in the cities, have adopted other languages as the primary means of communication. These days, the influence of other languages on Burushaski is just tremendous.
To make my contribution to on-going efforts of preserving Burushaski, I did my thesis on "The Preservation of Burushaski language". This project is a vehicle for expressing my ideas that language is the foremost pillar of society to communicate and a creative structural solution can be provided for its preservation.
My motivation to try preserving my own language in a visual form relates to the fact that many people have been fascinated about Burushaski and researchers have found it to be one of the very few isolated languages. Burushaski has still no standard writing system. There isn't a lot of written literary work but a number of oral traditions have been collected. Burushaski continues to be a language of self-identification among its speakers and despite many efforts, this fascinating language is endangered.
My aim through this project is to preserve Burushaski language through visual means and to ignite the revival of the language in the daily lives of young Burusho living in and outside Hunza.
This story is part of the #GBCProspers campaign by GBee. Send your stories at editor[at]gbee.pk or inbox your story at our Facebook page.
Join GBee to participate in our community forums and discuss topics about Gilgit, Baltistan, Chitral, Kohistan and Kashmir.
Follow these steps to help slow the spread of the virus and to reduce the risk of infection:
➡️ Wash your hands with soap and water regularly and thoroughly; this means for at least 20 seconds
➡️ Cough or sneeze into your elbow or into a clean tissue, then throw the tissue in the bin
➡️ Stay 1.5 meters away from others. If you are sick, stay home
➡️ If you're feeling sick or showing symptoms of coronavirus, you should call your designated numbers in your city for advice.
➡️ For more information and tips to help improve your safety and wellbeing, visit the Federal Government's official website