AKAH partners with KIU for Programs of Scientific and Technical Collaboration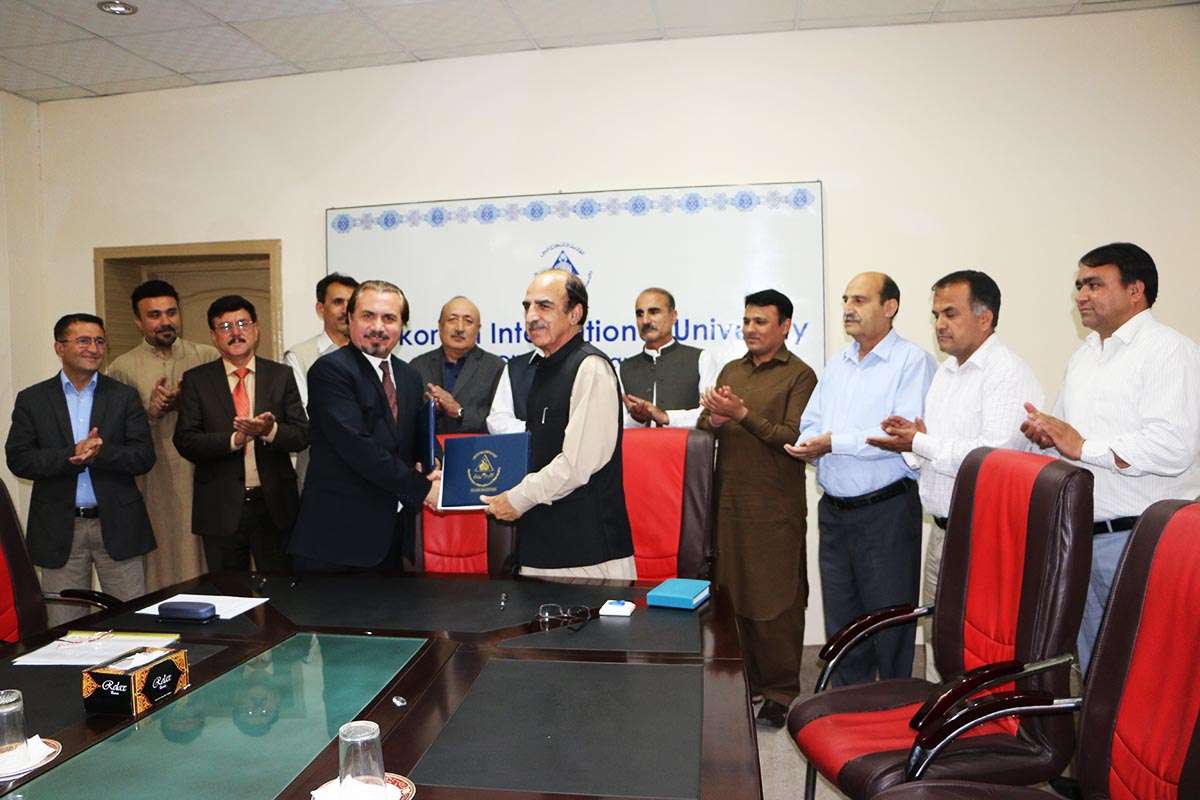 The Aga Khan Agency for Habitat partners with the Karakoram
International University, Gilgit, for programs of scientific and technical collaborations to advance the state of living conditions and reduce the vulnerability of mountain communities.
This partnership will encourage and facilitate young researchers and development practitioners in the field of disaster management and related disciplines such as hazard identification and assessment, mitigation, preparedness socioeconomic vulnerability assessment, climate change
induced disasters, Glacier and Glacier lakes, radiation hazards in the built environment and area focused structural design.
A high-level meeting held between Aga Khan Agency for Habitat and Karakoram International University, at Gilgit on 29 May 2019 to discuss technical aspects of the partnership for information sharing, exchange of resources and provision of opportunities. The meeting followed by the signing of Memorandum of Understanding (MoU), to advance the state of living conditions and reduces the vulnerability of mountain communities to natural disasters. The MoU was signed by the Vice Chancellor of KIU and the CEO of AKAH.
In his remarks Engr. Prof. Dr. Attaullah Shah, Vice Chancellor, Karakoram International University shared that "KIU is committed to making social development and evolution of peaceful and pluralistic societies in the mountainous areas of Pakistan. This formal linkage between the Aga Khan Agency for Habitat and KIU will be considered vital to boost research
and technical cooperation by sharing knowledge, expertise, and resources".
"Dealing with the issues of climate change and ensuring a safe and sustainable human habitat in the mountain areas is a key challenge of our times. We believe this challenge can only be addressed through strong cooperation and synergy between public and private sector organizations including academia and the civil society through generation and sharing of
knowledge, experience and technical cooperation" emphasized by Mr. Nawab Ali Khan, CEO of AKAH while speaking to the occasion. He further added that "this partnership will provide KIU researchers the opportunity of a field laboratory in AKDN projects for applied research in areas of disaster management and climate change adaptation and mitigation which will ultimately contribute to improvement in the quality of life of the communities. He appreciated the support that the public sector organizations have extended to AKDN and termed this partnership another key step for the development of the people of Gilgit-Baltistan.
In the past AKAH (AKPBS) jointly with KIU has worked on the development of skilled craftsmanship in Gilgit-Baltistan through joint programs.
Hundreds of craftspeople have benefited from the joint program and are benefitting communities with their learned skills.
Popular in the Community
{{#values}} {{/values}}
{{^isVideo}} {{/isVideo}} {{#isVideo}} {{/isVideo}}