Pakistani athletes shine in Khunjerab Marathon 2019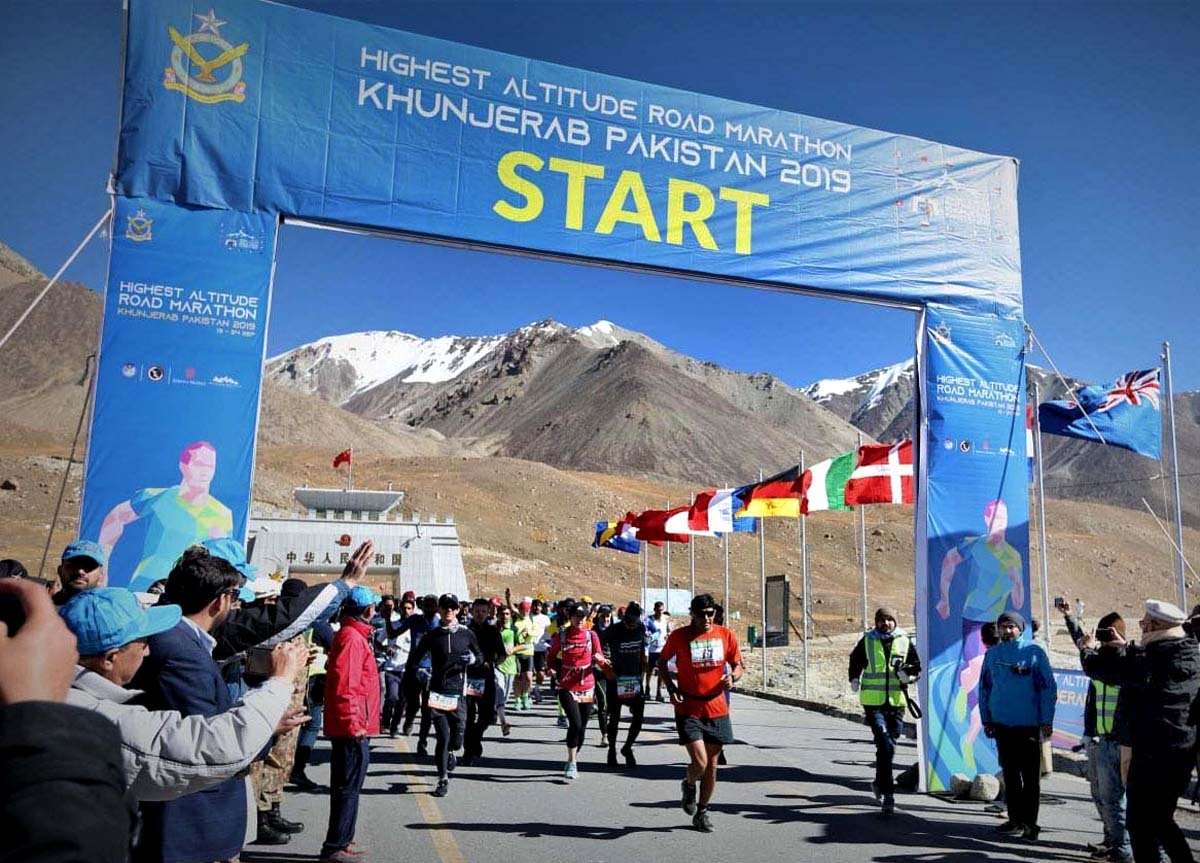 Pakistani athletes have managed to clinch all top positions in the Khunjerab Highest Altitude Road Marathon held on Saturday at Karakoram Highway (KKH) in Khunjerab National Park. The marathon was jointly organized by Pakistan Air Force (PAF) in collaboration with Serena Hotels and Z Adventures.
A total 154 marathon athletes from Pakistan and across the world ran on the Karakoram Highway at an elevation of 4693 meters making it the Highest Altitude Road Marathon. The athletes included 39 international runners from 17 countries
Khunjerab Marathon 2019 was held in three categories including ultra marathon (50 km), marathon (42 km) and half-marathon (21km).
The Khunjerab Marathon started from the PAK-China Border, also known as Khunjerab top and ended at Deh, a security check post near the trade hub of Sost in the Hunza district.
Personnel of Pakistan Army, Pakistan Air Force, and Gilgit-Baltistan Police and other security agencies were deployed to carry out the event successfully.
"This highest-ever marathon took place at an elevation of 4693 meters above sea level and featured a unique blend of young and old, local and foreign, male and female long-distance runners, sweating out on the eighth wonder of the world," said a PAF spokesperson while talking to the media.
Hafiz Hafeez-ur-Rehman, Chief Minister Gilgit Baltistan and Air Marshal Aasim Zaheer, President Winter Sports Federation of Pakistan, Maj. Gen. Ehsan Mehmood Khan, Force Command Northern Areas, Sana Ullah Abbasi IGP Gilgit-Baltistan, Jawad Saeed, Air Marshal Pakistan Air Force, Abdul Moeed, Air Vice Marshal PAF, and Brig. Abrar Ahmad DG GB Scouts were also present at the closing ceremony.
Muhammad Siyar from Pakistan Army clinched the first position in the 50-km marathon. Aslam Khan from GB Scouts was the runner up and Muhammad Iqbal stood third in the same category.
In the 42-kilometers race, Army Athletics Team represented by Umair Haider, Muhammad Faheem, and Sohail Tanveer won the first, second and third position respectively.
In the 21-kilometer race, Mirza Aslam Baig bagged the first spot while Abdul Muheet and Musawwar ur Rehman won the second and third positions, respectively.

Follow these steps to help slow the spread of the virus and to reduce the risk of infection:
➡️ Wash your hands with soap and water regularly and thoroughly; this means for at least 20 seconds
➡️ Cough or sneeze into your elbow or into a clean tissue, then throw the tissue in the bin
➡️ Stay 1.5 meters away from others. If you are sick, stay home
➡️ If you're feeling sick or showing symptoms of coronavirus, you should call your designated numbers in your city for advice.
➡️ For more information and tips to help improve your safety and wellbeing, visit the Federal Government's official website