Winter Tech Camp by TechScape and Accelerate Prosperity Pakistan concluded at KIU Gilgit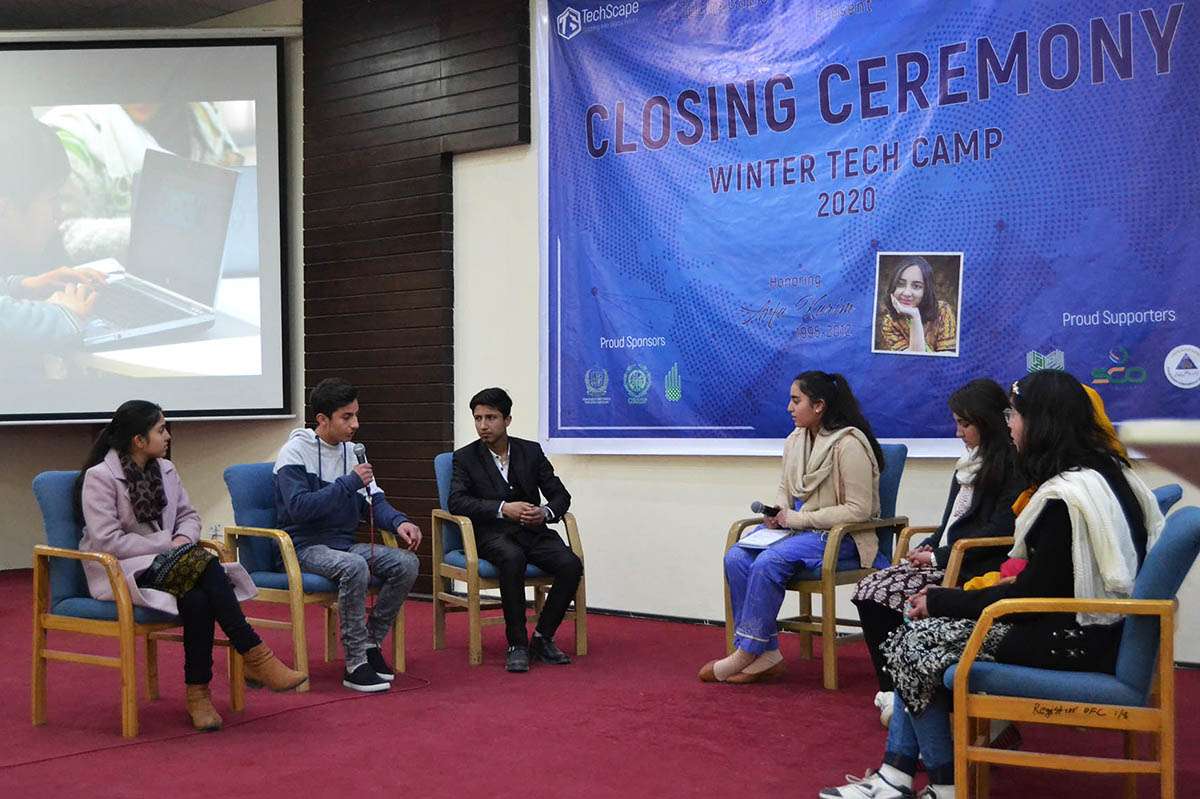 TechScape and Accelerate Prosperity (AP Pakistan) concluded the Winter Tech Camp 2019-20 with an ending ceremony organized at Karakoram International University (KIU) Gilgit. Certificate of participation and token of appreciation were distributed among the participants and sponsors of camp by the chief guest Col. Saqib Iqbal, the Commander of Special Communication Organization (SCO). Guest representatives of Karakoram International University (KIU), Aga Khan Rural Support Programme (AKRSP), and Gilgit-Baltistan Rural Support Programme (GBRSP) were also present at the event held at KIU's Musharraf Hall.
The Chief Guest of the ceremony Col. Saqib Iqbal in his address stressed the importance of information technology in the current era. He appreciated the efforts of TechScape in changing the dynamics of Gilgit-Baltistan through digital skills and committed to supporting in every possible way, not just to organize such events but also to support tech camps in the future.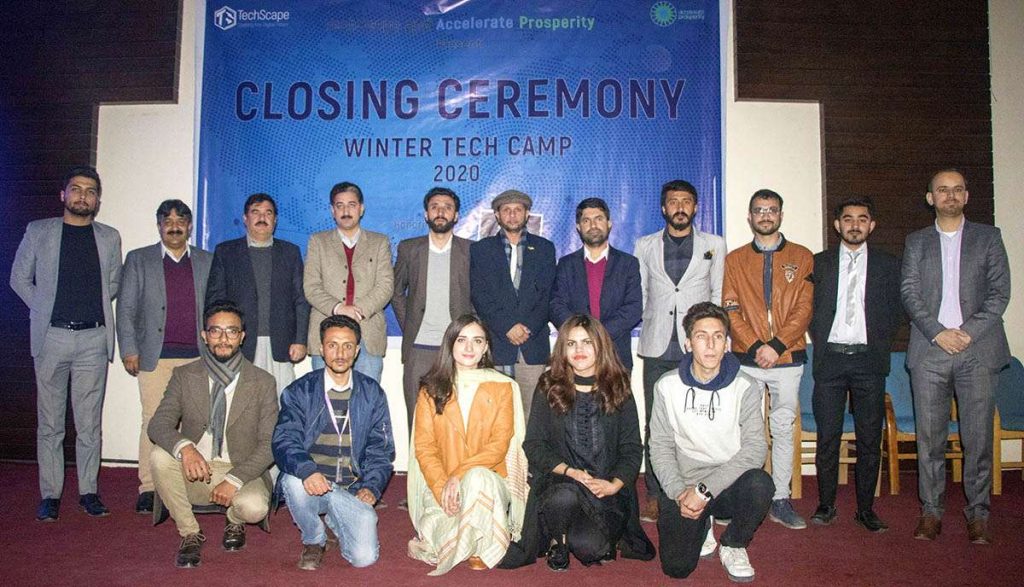 The Chief Technical Officer of TechScape Mr. Sajid Khan informed the audience regarding the services provided by TechScape. In his speech he stressed upon the need to learn the digital skills and requested the parents to encourage their children to pursue the field of their interest. 
Mr. Muhammad Ayaz Khan, Investment Analyst Accelerate prosperity Pakistan, highlighted the services of Accelerate Prosperity in creating the eco-system for the young entrepreneurs. He also appreciated the efforts of TechScape and their services in the IT Sector GB, Specially, Concentration on young minds, Kids and future of the Youth.
Winter Tech Camp was organized by TechScape in Collaboration with Accelerate Prosperity at AP Co-working space and Aga Khan Higher Secondary School (AKHSS), Gilgit. Modules included in the camp were App Development, Game Development, Web Development, Robotics, Freelancing, Photoshop, and MS office. Students worked on their tech projects by using platforms like Scratch, Unity, Mobirise, WordPress, etc. The camp also conducted industrial visits where students visited SCO and CaliberOn International. The basic idea behind these visits was to familiarize the students with the tech-based industry around them and to give them a glimpse of the future of work.
TechScape is the first Education-Technology company in Gilgit Baltistan, which organizes different bootcamps for students across Gilgit Baltistan on different emerging technologies and Skills. It has trained more than 1000 students in Gilgit and has started camps in Hunza and Ghizer as well. Currently, TechScape is working in backward areas of GB like Chipurson and Hundur. Teaching the students about technology and its uses in daily life.
Disclaimer: This is a Press Release.

Karakoram Area Development Organization (KADO) appoints its first-ever female CEO
Karakoram Area Development Organization, better known as its acronym KADO, has appointed Mehnaz Parveen as its first-ever female CEO. The vacant position of Chief Executive Officer at KADO Hunza was announced on 2nd August 2019.
Mehnaz Parveen, the new CEO of KADO Hunza, is a resident of Passu, Gojal. She has been working at Foundation for Arts, Culture & Education (FACE) as a Director and Institute for Preservation of Arts and Culture (IPAC) prior to FACE. She has also been associated with Indus Blues as a Production Designer. Indus Blues is an award-winning Pakistani documentary that focuses on the fading musical instruments in Pakistan.
Mehnaz Parveen holds a degree in journalism from Fatima Jinnah Women University, Rawalpindi. She also studied documentary filmmaking from Madison Area Technical College, Watertown, Wisconsin, USA.
She has been in a leading position for Music Mela events in Hunza and Islamabad. Music Mela is an event organized by the Foundation for Arts, Culture & Education (FACE) in collaborations with partner organizations and brands.
Mehaz Parveen is also the co-founder of Seabuckthorn Hunza restaurant which is based in Islamabad's sector F8. The restaurant serves Hunza Traditional Foods.
The new CEO brings on table years of experience working with indigenous communities from Kalash to Tharparkar. Mehnaz Parveen, during her time at FACE, has worked tirelessly for improving the livelihoods of these indigenous communities and for the promotion of culture and folk music of these areas.
"Karakoram Area Development Organization (KADO) is an indigenous initiative aimed at to improve the socio-economic conditions of people in Gilgit-Baltistan."

www.kado.org.pk
KADO has been working actively since the mid-90s for the promotion of culture, entrepreneurship and giving training to differently-abled and young people across Gilgit-Baltistan and even Chitral.
With a headquarter based in Aliabad, Hunza, KADO has spent over a billion Pakistani Rupees, mostly grant and aid money, during the past two decades. KADO is currently operating projects like the Gems and Jewellery Development Centre, Karakoram Handicraft Development Project, Hunza Arts and Cultural Forum, Hunza Environmental Committee, Information Communication Technology for Development (ICT4D), Rehabilitation Center and HiMaT ILDP.
Telenor Pakistan set to galvanize agricultural growth in Gilgit – Baltistan through digital innovation
Islamabad – August 29, 2017: Expanding its digital footprint to the far-flung and underserved areas of the country, Pakistan's premier telecom, and digital services provider, Telenor Pakistan has launched its mobile agriculture advisory service 'Khushaal Zamindaar' in Gilgit – Baltistan. Launched in collaboration with Market Development Facility (MDF), the innovative service will provide localized and customized advisory services to facilitate local farmers in increasing their agricultural yield.
The high-spirited launch event was held at a local hotel in the provincial capital, Gilgit. The honorable guests include MDF, members from Agha Khan Rural Support Program (AKRSP), Japan Inter Cooperation Agency (JICA), International Fund for Agricultural Development (IFAD), media persons, community leaders, female farmers of Gilgit and Telenor Pakistan officials.
'Khushaal Zamindaar' is Telenor Pakistan's innovative and industry-first initiative, initially launched in Punjab to help small scale farmers to adopt modern and best practices in agriculture.  It provides localized, contextualized and customized information including weather forecasts, timely agronomic & livestock advisory through SMS and robot calls to help increase crop yield,  reduce post-harvest losses, safeguard nutrition and better manage adverse climatic effects and natural resources. Currently, more than 04 million small scale farmers subscribe to this free of cost service covering a range of cash crops, fruits and vegetables, fodders and livestock and 20 percent of them are women farmers.
The mobile agriculture service in Gilgit – Baltistan will provide location based weather forecast and information about value chains like Apricots, apple, potato and other crops cultivated in the region. The service shall also benefit the farmers who rear livestock, potentially transforming the domestic use to commercial benefits in the long run.
Speaking at the event, Head of Mobile Agriculture, Telenor Pakistan, Habib Saqib said: "Telenor Pakistan is bringing its innovative mobile agriculture solution to Gilgit – Baltistan to supplement the socio – economic progress of the region. Khushaal Zamindar will enable and empower the local farmers to make calculated and informed decisions to increase their agricultural yield. They will also be able to adopt best practices used around the world to get better yields in terms of quality and quantity. The initiative comes in line with Telenor Pakistan's commitment to empowering the societies and we believe that true empowerment comes with financial liberty. We will continue to contribute to the socio – economic progress and well-being of the region."
Sharing his thoughts, Osman Anwar, Coordinator Pakistan Country Team, MDF said, "Telenor's 7272 service is very relevant for smallholder farmers in Gilgit-Baltistan. The MDF would like to congratulate Telenor for launching a service which has been designed by including feedback from a multitude of farmers. Weather alerts, forecasts, and crop advisory are core to a successful farming system particularly in Gilgit-Baltistan, a region where providing physical extension is difficult in hard to reach valleys and accurate weather information is seldom available. We hope that Telenor builds on the exciting suite of services and continues to add value in the lives of smallholder farmers by providing practical solutions to problems around information, market access, and credit."