Shaheed Malik Ashtar – the paramedic, the man, the wrestling fan, the migrant, and my savior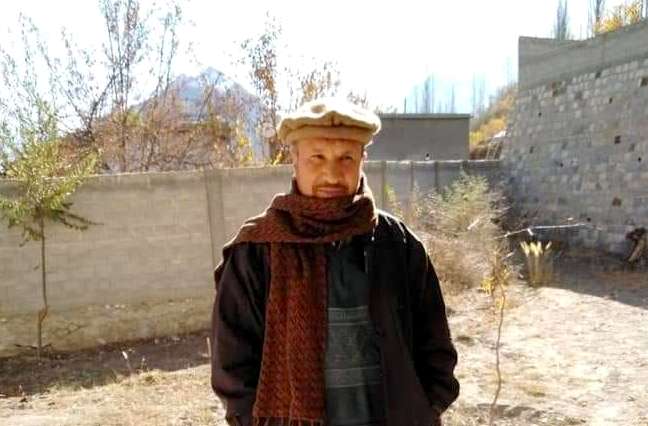 Martyrs defending against COVID-19
A deluge of social media notifications woke me up this morning on the other side of the world to the devastating news of Dr. Malik Ashtar's passing from COVID-19. His story is worth telling, so bear with me. I will be concise.
Malik Ashtar, the paramedic.
Dr. Malik Ashtar was the most recognizable face of Sumayar's healthcare system. He was a paramedic but everyone called him doctor sb, and for the longest period ever he was the sole and unofficial chief medical officer of the valley- without any privileges but with every responsibility. The government had appointed him a technical assistant in radiology or something similar, but for all practical purposes, he was the chief physician of the valley.
He catered to the needs of hundreds of patients and would try as hard as he could to fix things himself instead of referring them to the District Headquarters Hospital in Gilgit city – a 100 kilometers away as it would not be affordable for most of the poor villagers. He would not shy away from hard jobs in any way, so it was natural that when the coronavirus patients reached him, he quickly responded – without any regard to his own safety, without any protective gear.
Malik Ashtar, the man
He had a calming presence, a wide smile, and a humble demeanor. I am sure few people commanded as much respect for the valley as he did. He didn't know personal time from professional time, and in his role, it wasn't possible for him either. No excuse like extreme weather, lack of transportation, fatigue would come in his way of rendering his services.
So when the infected patients began rolling into his clinic, he jumped to treating them, knowing perfectly well that treating them without gear would expose him to great danger and quite possibly death. He knew he was making a choice between his own life and the life of his patients. He made the ultimate sacrifice.
I am sure he would be proud of the way he bowed out if it were possible for a mortal to witness his/her own passing, and see his people's grief and gratitude. And if it were possible to choose the manner of one's departure, he would definitely choose to go just the way he did: die treating others.
Malik Ashtar, the wrestling fan
He was a diehard fan of wrestling. You would find him perched on the front bench of the only TV-owning hotel in Sumayar. Everyone knew that it was his seat and would immediately give it up for him the moment he would enter the hotel. He was very passionate about it. He was not any less devoted to the game than the most ardent fan sitting in the audience of the live game, but he watched recorded VHSs and DVDs.
Last year, while in New Orleans, Louisiana, my Uber passed by the Mercedes-Benz Superdome – which had hosted the Wrestlemania event the previous year, and my thoughts took me to that small hotel hall in my village with Dr. Ashtar and many other regular wrestling fans on the edges of their benches cheering on their favorite wrestlers. As far as I can tell, this was his only source of entertainment in life.
Malik Ashtar, the migrant
Dr. Ashtar was born and raised in the beautiful tourist hub of Hoper, but he chose to make Sumayar his home. As locals would understand this is a very rare thing to happen in Nagar. Internal migration on permanent footing is unheard of. But he fell in love with Sumayar, Nagar, and the people of Sumayar returned the sentiment with great admiration which was on display yesterday. Every single person in Sumayar has a personal story of gratitude and service by this man. I too have a story that I would like to share as my gratitude to the man.
Malik Ashtar, my savior
In 1999, during the month of Ramzan, I suddenly had unbearable pain in my bottom left abdomen and my father was out of the valley.  Dr. Ashtar came to my house and tended to me, giving me the injections and the medication. Later that night or the next day, he visited again and took me to Aliabad Hospital in Hunza because he suspected something was off and he couldn't quite figure it out. I was taken to the hospital in Aliabad, and the doctor there asked me to go to Gilgit headquarters hospital right away.
Dr. Ashtar wanted to accompany me there but had to be at his job in the morning so I insisted he go back. He got off the car in Murtazabad and walked ten kilometers back to Sumayar on that bone-chilling winter night. It was twenty-one years ago, and I have never forgotten it and I will never forget it. When I reached the hospital in Gilgit city in the middle of the night, they rushed me to emergency surgery to remove my appendix as it is in a very risky state. In the two decades since whenever I would run into him, I would swell with gratitude, and I think he could feel my gratitude.
Malik Ashtar, the spiritual man
Doctor sb is known to enjoy the annual feature of the valley: the celebration of the 13 Rajab: the birthday of Imam Ali (AS). It is always a festive occasion with a series of events, but the main event is the poetry recitals on the life of Imam Ali. Poets, young and old, profusely shower admiration on Imam Ali in moving and flowing language.  Dr. Malik Ashtar saheb wallowed in its spiritual comfort and peace.
May his soul find eternal peace. Amen.
Popular in the Community
{{#values}} {{/values}}
{{^isVideo}} {{/isVideo}} {{#isVideo}} {{/isVideo}}