Seminar on Tourism and Its Socioeconomic, Political and Environmental Impact in Hunza
A team of 11 young researchers presented their case studies on responsible tourism at GB Boys Degree College, Hunza on 1st September 2018. The objective of the seminar was to sensitize local masses with the dire need to manage tourism and also to initiate discussions for the promotion of responsible tourism.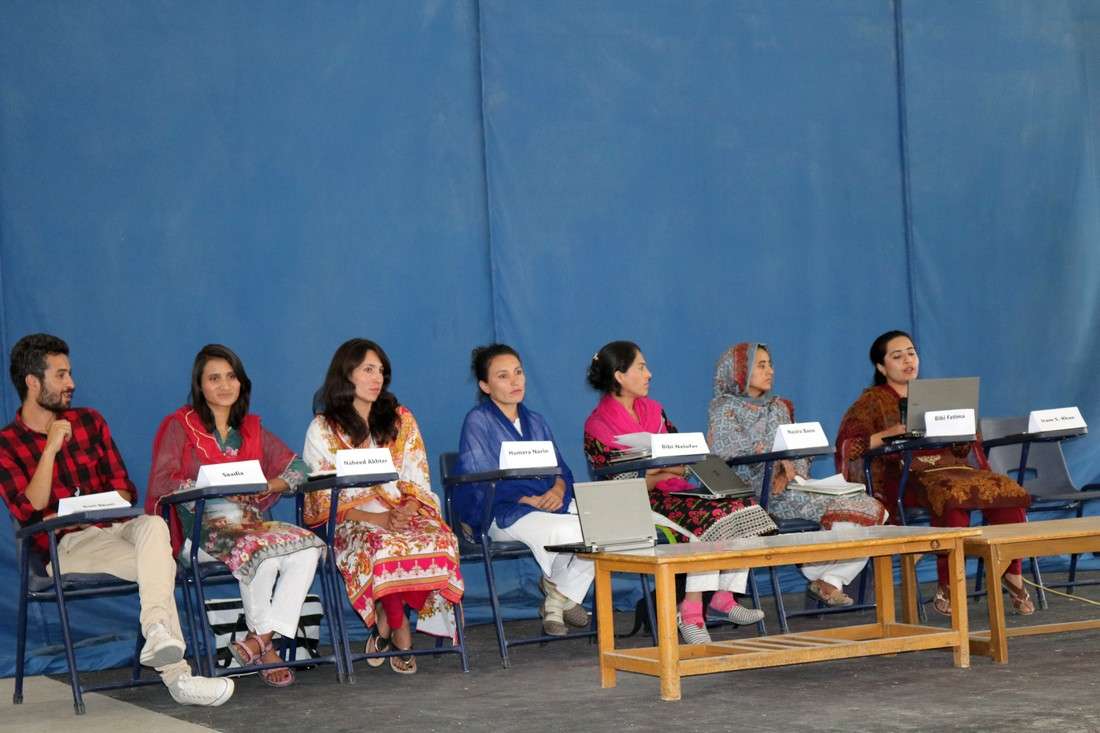 The researchers tried to shed light on the importance of preservation of culture, tradition, heritage and most importantly environment while maintaining the hospitality tradition of Hunza people. The researchers collectively argued that tourism industry should translate into rural development through strategies of pro-poor policies and resisting urbanization.
The presentation also included a dialogue between young researchers and the audience. A major research report tracing demographics, perceptions, preferences and behavioral patterns of tourists was shared. It was followed by other case studies on topics like women's earning pattern, infrastructure, the commodification of local food, waste management, child labor, women's mobility and presence in public spaces, career choices among youth and loss of locals' ownership of land. The researchers were open to feedback on their work with due consideration of the study's limitations.
Principal GB Govt. Boys Degree College Hunza, Asst. Prof. Sher Ali welcomed the team and said, "it is heart-warming to see youth of Hunza contributing their time and efforts for the society and it is very promising to see them investing their energies in research".
Elucidating the theme of conference Iram Shaista Khan, the team lead, presented the major research and briefed the participants about the dire need of social mobilization, community resilience and policy guidelines for the management of tourism in Hunza. She opened the stage for critical assessment of how irresponsible tourism is effecting Hunza both socially and environmentally.
She said that out of the total, 97% of tourists use private transportation and only 2.1% of visitors are using public transportation to come to Hunza. This statistic is alarming, with respect to carbon emissions and the urgent threats posed due to vulnerabilities of the region. Her research provided significant findings which can be used in the future to come up with an informed policy for tourism in GB.
Safiullah Baig, the guest speaker, shared his views on how drastically the culture and ecology of Hunza have been affected in the last few decades. He said managing tourism is important because it has become a matter of survival for the poor indigenous people.
The main findings of the case studies include the increase in unplanned constructions, congestion in Public Spaces, lack of parking areas, restrictions on local female mobility, increase in earning opportunities for women, increased demand for local food leading to modifications, loss of locals' land ownership due to monopoly business practices of non-locals, possibility of commodification of natural resources, absence of construction by-laws, low capacity of waste management institutions, incineration of huge amounts of plastic, lack of awareness about environmental issues, students leaving school to start tourist enterprises, child labor, increased employment opportunities for youth and seasonal employment.
Gari Khan's study highlighted the issues of waste management. He revealed that out of total waste 82.3% consists of plastic and the only waste processing method is incineration in open areas. "Due to non-local monopoly businesses the locals are getting stripped of their land," said Haider Ali, further elaborated how this is likely to lead towards privatization of natural resources. Other speakers include Nasira Bano, Bibi Fatima, Humaira Bano, Sadia, Naheed Akhter and Bibi Nelofar.
Sultan Madad, a senior activist of Gilgit-Baltistan, appreciating the hard work of the researchers said that people have to take immediate actions to manage tourism in Hunza by reinforcing the existing village rules and customary laws. He asked for the mobilization of youth to work for the betterment of the society. Tajir Hussian Lecturer, Development Studies appreciated the presenters for spreading awareness and stressed on the importance of grassroots research for the informed policymaking.
Asghar Khan, Manager Hunza Serena Hotel (Baltit Inn) described in detail the concept of Responsible Tourism. He highlighted the importance of maximizing benefits for the local community through the utilization of local material and local human resource.
In conclusion, the audience stressed that every region of GB should benefit from the emerging tourism industry and such kind of research should be conducted, in order to, prepare locals for "Responsible Tourism" management; which should benefit local economy while minimizing risks for society and ecology.
Popular in the Community
{{#values}} {{/values}}
{{^isVideo}} {{/isVideo}} {{#isVideo}} {{/isVideo}}