Gilgit-Baltistan Supreme Appellate Court Suspends GB Order 2018
The Supreme Appellate Court of Gilgit-Baltistan has suspended the newly-promulgated Gilgit-Baltistan Order 2018 following a petition by GB Council member Saeed Afzal.
The petition was filed in Supreme Appellate Court of Gilgit-Baltistan to declare the GB Order 2018 illegal. A demand of stay order was also made. According to sources, Saeed Afzal — a member of GB Council — had filed the petition in April under Article 61 of the GB Empowerment and Self-Governance Order 2009.
Gilgit-Baltistan Council is a constitutional body established in 2010 under Article 33 of Gilgit-Baltistan (Empowerment and Self Governance) Order, 2009. The Council had executive and legislative powers before being suspended by the new GB Order 2018.
Saeed Afzal, the petitioner, is one of the members of GB Council that's powers have been restricted in the GB Order 2018. The elected members of GB Council were to hold office until elections in 2020.
The Federal Government has promulgated GB Order 2018 despite a stay order from Rana Muhammad Shamim, the Chief Judge of Gilgit-Baltistan Supreme Appellate Court which was observed as a "violation of law" by the court.
In the latest hearing of the petition, a two-member bench of the Gilgit-Baltistan Supreme Appellate Court has issued a suspension of GB Order 2018. The bench comprised of Chief Judge GB Supreme Appellate Court Rana Muhammad Shamim and Justice Javed Ahmed.
The next hearing of the GB Order 2018 case is scheduled for July 26, 2018.

Anita Karim victorious in ONE Warrior Series 10 against Estonia's Marie Ruumet
Pakistan's first female MMA fighter Anita Karim was unanimously victorious against Estonia's Marie Ruumet in ONE Warrior Series 10. One Warrior Series 10 was played on February 19 as part of the ONE Championship 2020 in Singapore.
Anita Karim, famously known as Anita "The Arm Collector" Karim, was competing in women's atomweight category. She was representing Team Fight Fortress (TFF) as well as the Fairtex Gym. She was being coached by Uloomi Karim Shaheen, who himself is an MMA fighter.
Anita Karim started her career from the platform of The Fight Fortress Islamabad which was founded by MMA coaches from Gilgit-Baltistan.
She is one of the three Mixed Martia Arts fighters from Pakistan to compete in ONE Championship's ONE Warrior Series 10.
Rich Franklin's ONE Warrior Series (OWS) streamed its first live event in 2020 on February 19 where 15-Bout Card was set for the ONE Warrior Series 10.
The OWS 10 card will feature 15 match-ups as athletes from five continents aim to make a big impression and earn a contract to compete on the main ONE Championship roster.

There will be 13 competitors who will make their OWS debuts in Singapore, but the bill also features a host of familiar faces who will try to build on their previous success and make the leap to the global stage.

www.onefc.com/
The lineup for ONE Warrior Series 10
Byung Hee Lim vs. Kieran Joblin (mixed martial arts – lightweight)
Alan Philpott vs. Ahmed Faress (mixed martial arts – featherweight)
Min Hyuk Lee vs. Ryoji Kudo (mixed martial arts – featherweight)
Sasha Moisa vs. Shahzaib Rindh (kickboxing – featherweight)
Mehdi Bagheri vs. Koji Shikuwa (mixed martial arts – welterweight)
Michael Walker vs. Kanta Motoyama (kickboxing – flyweight)
Daniel Van Heerden vs. Arash Fairtex Mardani (mixed martial arts – 110-kilogram catch weight)
Marc Grayson vs. Rick Alchin (mixed martial arts – middleweight)
Adib Sulaiman vs. Susovan Ghosh (mixed martial arts – strawweight)
Marie Ruumet vs. Anita Fairtex Karim (mixed martial arts – women's atomweight)
Myung Gu Kim vs. James Fairtex Bishop (mixed martial arts – bantamweight)
Joey Baylon vs. Manthan Rane (mixed martial arts – 60-kilogram catch weight)
Peter Danesoe vs. Irfan Ahmad (mixed martial arts – strawweight)
Saksit Janhom vs. Shammah Chandran (mixed martial arts – bantamweight)
Seung Hyun Cho vs. Rana Rudra Pratap Singh (mixed martial arts – flyweight)
Two other Pakistani MMA fighters played their matches as part of the ONE Warrior Series 10. Irfan "The Gorilla" Ahmad won his mixed martial arts match against Peter Danesoe in the strawweight category. Irfan Ahmad was representing Team Shaheen
Shahzaib Rindh, who was participating in his first professional international match was defeated by Ukraine's Sasha Moisa.
The 21-year-old Shahzaib is a student of Balochistan University of Information Technology, Engineering and Management Sciences (BUITEMS). Pakistani MMA fighter Ahmed "The Wolverine" Mujtaba also studied from the same varsity.
Here are complete results of ONE Warrior Series 10
Byung Hee Lim bt. Kieran Joblin by TKO
Ahmed Faress bt. Alan Philpott by Submission
Ryoji Kudo bt. Min Hyuk Lee by UD
Mehdi Bagheri bt. Koji Shikuwa by TKO
Sasha Moisa bt. Shahzaib Rindh by KO
Kanta Motoyama bt Michael Walker by UD
Daniel Van Heerden bt. Arash Mardani by TKO
Marc Grayson bt. Rick Alchin by Submission
Adib Sulaiman bt. Susovan Ghosh by TKO
Anita Karim bt. Marie Ruumet by UD
Manthan Rane bt. Joey Baylon by UD
Irfan Ahmad bt. Peter Danesoe by UD
Shammah Chandran bt. Saksit Janhom by TKO
Rana Rudra Pratap Singh bt. Seung Hyun Cho by Submission
Winter Tech Camp by TechScape and Accelerate Prosperity Pakistan concluded at KIU Gilgit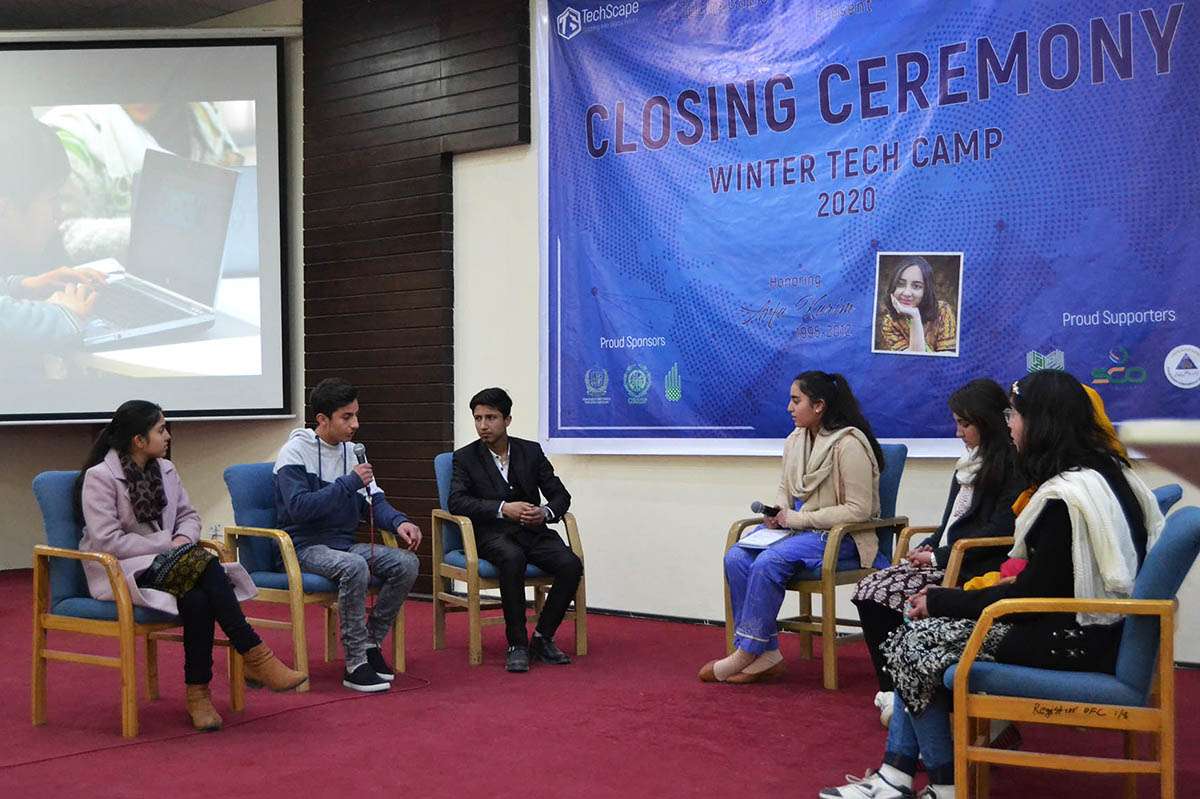 TechScape and Accelerate Prosperity (AP Pakistan) concluded the Winter Tech Camp 2019-20 with an ending ceremony organized at Karakoram International University (KIU) Gilgit. Certificate of participation and token of appreciation were distributed among the participants and sponsors of camp by the chief guest Col. Saqib Iqbal, the Commander of Special Communication Organization (SCO). Guest representatives of Karakoram International University (KIU), Aga Khan Rural Support Programme (AKRSP), and Gilgit-Baltistan Rural Support Programme (GBRSP) were also present at the event held at KIU's Musharraf Hall.
The Chief Guest of the ceremony Col. Saqib Iqbal in his address stressed the importance of information technology in the current era. He appreciated the efforts of TechScape in changing the dynamics of Gilgit-Baltistan through digital skills and committed to supporting in every possible way, not just to organize such events but also to support tech camps in the future.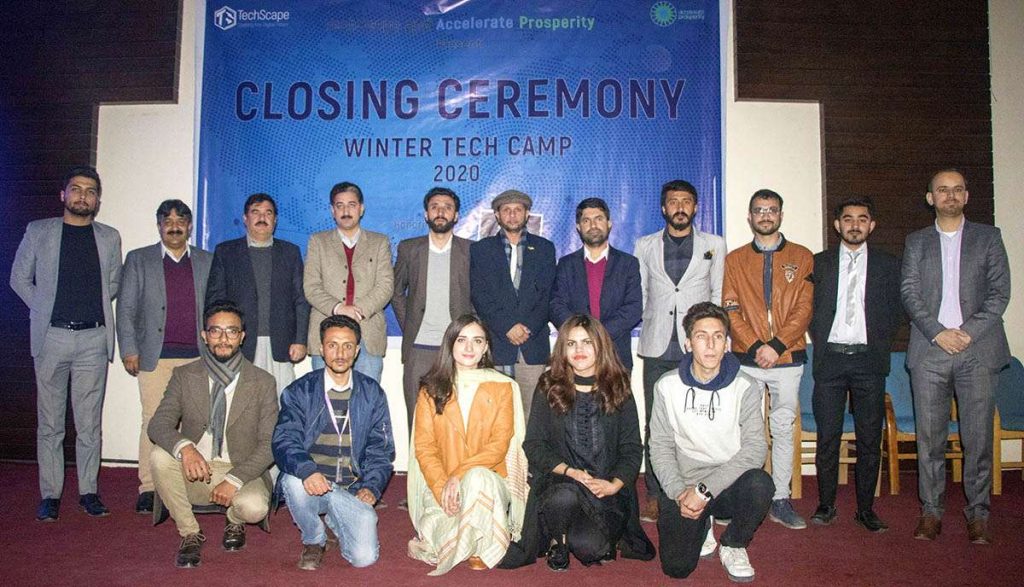 The Chief Technical Officer of TechScape Mr. Sajid Khan informed the audience regarding the services provided by TechScape. In his speech he stressed upon the need to learn the digital skills and requested the parents to encourage their children to pursue the field of their interest. 
Mr. Muhammad Ayaz Khan, Investment Analyst Accelerate prosperity Pakistan, highlighted the services of Accelerate Prosperity in creating the eco-system for the young entrepreneurs. He also appreciated the efforts of TechScape and their services in the IT Sector GB, Specially, Concentration on young minds, Kids and future of the Youth.
Winter Tech Camp was organized by TechScape in Collaboration with Accelerate Prosperity at AP Co-working space and Aga Khan Higher Secondary School (AKHSS), Gilgit. Modules included in the camp were App Development, Game Development, Web Development, Robotics, Freelancing, Photoshop, and MS office. Students worked on their tech projects by using platforms like Scratch, Unity, Mobirise, WordPress, etc. The camp also conducted industrial visits where students visited SCO and CaliberOn International. The basic idea behind these visits was to familiarize the students with the tech-based industry around them and to give them a glimpse of the future of work.
TechScape is the first Education-Technology company in Gilgit Baltistan, which organizes different bootcamps for students across Gilgit Baltistan on different emerging technologies and Skills. It has trained more than 1000 students in Gilgit and has started camps in Hunza and Ghizer as well. Currently, TechScape is working in backward areas of GB like Chipurson and Hundur. Teaching the students about technology and its uses in daily life.
Disclaimer: This is a Press Release.