Raja Jalal Hussain Maqpoon swears in as the Governor of Gilgit-Baltistan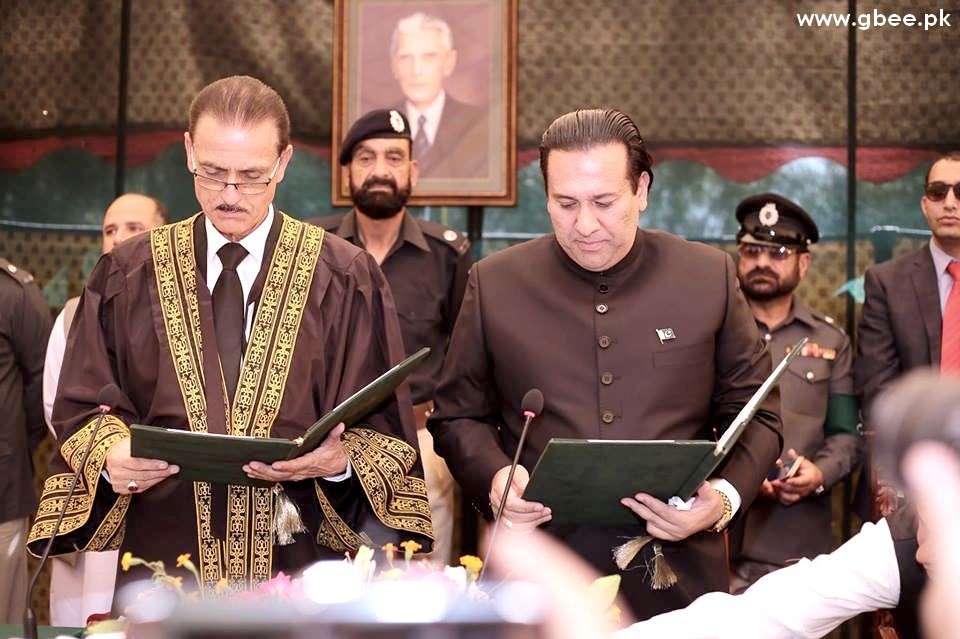 Raja Jalal Hussain Maqpoon has sworn in as the 7th Governor of Gilgit-Baltistan. He was appointed by President of Pakistan Dr. Arif Alvi after the resignation of Mir Ghazanfar Ali Khan.
The former governor of Gilgit-Baltistan Mir Ghazanfar Ali Khan's resignation was accepted by the President, which came a few days after a video scandal surfaced.
The caretaker Chief Justice of Supreme Appellate Court Gilgit-Baltistan Justice Javed Javed Iqbal took oath from the new Governor of Gilgit-Baltistan who hails from Skardu district in the Baltistan region.
The appointment letter was read by Chief Secretary Gilgit-Baltistan Babar Hayat Tarar.
The event held at Governor House in Gilgit was attended by Chief Minister Gilgit-Baltistan Hafiz Hafeez Ur Rehman, Pakistan Tehreek-i-Insaf (PTI) leaders, judges, civil servants and the public.
Raja Jalal Hussain Maqpoon has formerly served as the Chairman of Pakistan Tehreek-i-Insaf PTI Gilgit-Baltistan.
He had lost Gilgit-Baltistan Legislative Assembly elections from Skardu in 2015. His defeat came against Haji Akbar Khan Taban who won by just one vote.
According to the infamous GB Order 2018, the Governor of Gilgit-Baltistan has to be a local resident.

Follow these steps to help slow the spread of the virus and to reduce the risk of infection:
➡️ Wash your hands with soap and water regularly and thoroughly; this means for at least 20 seconds
➡️ Cough or sneeze into your elbow or into a clean tissue, then throw the tissue in the bin
➡️ Stay 1.5 meters away from others. If you are sick, stay home
➡️ If you're feeling sick or showing symptoms of coronavirus, you should call your designated numbers in your city for advice.
➡️ For more information and tips to help improve your safety and wellbeing, visit the Federal Government's official website