Seminar Held at KIU to discuss the role of ECD in social transformation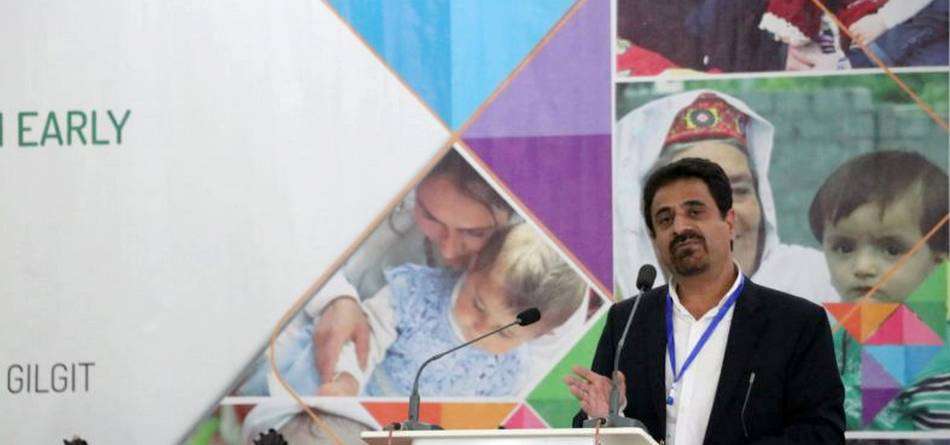 GILGIT 24/7: The first ever seminar on Early Childhood Development (ECD) was held at the Karakorum International University (KIU) on the 10thand 11th September 2018. The Seminar was the result of collaboration between the Karakorum International University, Rupani Foundation, Department of Education, Gilgit-Baltistan, Department of Health, Gilgit-Baltistan, the Aga Khan Development Network (AKDN), World Learning, Hashoo Foundation, and Allama Iqbal Open University.
The theme of the seminar was 'Transforming Society through Early Childhood Development'.It featured an opening and closing session, a plenary, two engaging concurrent sessions and a panel discussion.
Minister for Works, Gilgit-Baltistan- Dr. Muhammad Iqbal presided over the opening session. He emphasized the significance of a mother's health and education in providing a valuable head start to children. He further elaborated that, only an educated and healthy mother can ensure a prosperous nation. Prof. Dr. Atta Ullah Shah, Vice Chancellor KIU said that ECD is an integral component for social prosperity which should be considered on all levels. He also discussed the role of academia to formalize the ECD sector in the context of Gilgit-Baltistan. He also announced the establishment of a state of the art ECD research center at the faculty of education, KIU in partnership with Rupani Foundation. Dr. Sughra Khan Choudhry, Director Education, Aga Khan Foundation, Mr. Ghulam Tahir, Vice Chairman Rupani Foundation, Mr. Jalal-ud-din, Hashoo Foundation and Ms. Khadija Khan, CEO Pakistan Alliance also presented their remarks in the opening session.
Among others, Dr. Alimna Pardhan (AKU-IED), Dr. Ghazala Rafique (AKU-HDP), Dr. Sadiq Hussain (KIU), Dr. Nadir Shah (SUN) and Mr. Waseem Samad (CEO Rupani Foundation) made their presentations on nurturing care frameworks, importance of first 1000 days of life, nutritional status of GB, and other discourses of holistic development in early childhood. A panel discussion led by Ms. Nadia Karim Shaw, country representative World Learning highlighted the importance of early grades reading. On the second day, the seminar participants visited different public and private ECD models working in the Gilgit City, followed by a reflective session.
Minister of Education, Gilgit-Baltistan Mr. Muhammad Ibrahim Sanai was the chief guest of the closing ceremony. Mr. Nasruddin Rupani, Chairman & Founder Rupani Foundation reiterated the commitment of RF to the Children of Gilgit-Baltistan in his welcome note. He said the Foundation will extend its unconditional support to the government of GB to promote ECD services. Mr. Majeed Khan, Director Planning, Department of Education presented the key recommendations and way forward. Mr. Muhammad Ibrahim Sanai in his address said that ECD is the key to unlock prosperity and socio-economic wellbeing for the future generation. Mr. Minister further added that the government of Gilgit-Baltistan is very keen to promote Early Childhood Development in all schools of GB. He emphasized on the importance of public and private partnership to ensure access and inclusion.
The seminar brought together policy makers, education department officials, ECD experts, practitioners, researchers, donors and academic institutions to share progress and experiences in the field of ECD in Gilgit – Baltistan (GB). Around 300 delegates including political and government administrative leadership, ECD experts, head of institutions, researchers, academicians and ECD practitioners from 10 districts of Gilgit-Baltistan and from mainland Pakistan attended this two-day event.
Popular in the Community
{{#values}} {{/values}}
{{^isVideo}} {{/isVideo}} {{#isVideo}} {{/isVideo}}